details
Frontier Brewing Company and Taproom is a unique microbrewery located in the heart of downtown Casper. Frontier specializes in small-batch beer brewed fresh each week and served via an innovative self-pour tap system. In addition to fantastic beers, patrons will also find live entertainment, popular board games, food trucks and a come-as-you-are vibe that is sure to make a stop at Frontier the best part of your week.
Map
Amenities
General
Alcohol:
Meeting Facilities
Facility Info
Total Sq. Ft. 2500
Reception Capacity 135
Rounds 0
Number of Rooms 2
Events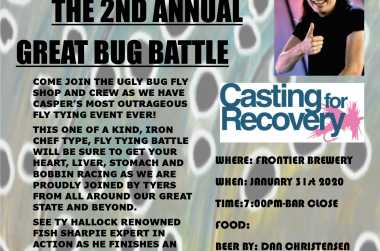 Jan 31
Ugly Bug Fly Shop's 2nd Annual Great Bug Battle
January 31, 2020
This one of a kind, iron chef type, fly tying battle will be sure to get your heart, liver and stomach racing as we are...