Completed Projects in Natrona County
Most Recent
Film Casper recently hosted the filming of two episodes of "Running Wild with Bear Grylls - The Challenge" for National Geographic. 
Here are some details released by National Geographic:
BRADLEY COOPER IN THE WYOMING BASIN
Bradley Cooper joins Bear on an adventure through the rugged canyons of the Wyoming Basin. Bear teaches Bradley how to use a grappling hook gun, as well as key mountaineering rope skills, to traverse a series of towering ravines. The two spend the night hanging on the side of a cliff, and on day two, Bradley is faced with daunting challenges during a harsh winter snowstorm.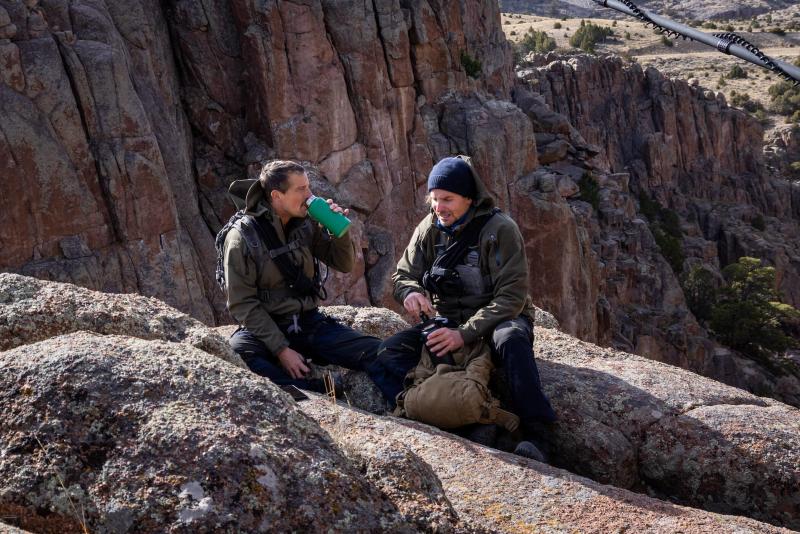 TATIANA MASLANY IN THE LARAMIE MOUNTAINS
Bear Grylls invites "She-Hulk" and "Orphan Black" star Tatiana Maslany on a journey across Wyoming's Laramie Mountains. Tatiana admits that she's fearless on the screen, but she can't tap into that same bravery in the real world. So, Bear challenges Tatiana to conquer massive cliff rappels, menacingly icy cliffs, and a zero-degree cold shock to the body to help her overcome her fears.
Film Casper works with production companies to secure locations and local resources for film, television, documentaries, museums and advertising. For this project, Film Casper partnered with Peak Rescue and Tracked Outdoors, as well as landowners and other partners.
Feature Films 
Vice, 2017 - Annapurna Pictures 
Starship Troopers,  1997 - Sony/Tristar
Hellfighters, 1968
Commercial Productions
Wells Fargo Commercial, 2016 - Bullitt Branded
Lady Marlboro Commercial - RSA USA
Marlboro Classics Clothing Catalog - Rene Salle Communication
Toyota Trucks - Victor Huber Photography
Education and Documentaries
National Historic Trails Center, 2002 (interactive display films)
Great Platte River Road Archway Monument 
Fire Dancer, 2021 - Anthony Stengel