Meet Kim DeVore
Kim Devore is the kind of woman who has a way of putting a smile on your face. Her energy is amazing, her laugh is contagious and her work ethic is inspiring. While she's the Senior Vice President, CFO and a Founding Director at Jonah Bank of Wyoming, she's also a wife, mother and grandmother. But that's not all. Kim was named the 2015 Wyoming Woman of Influence in the Banking and Finance Industry and serves on the board of the Central Wyoming Boys & Girls Club Foundation, the Two Fly Foundation and the Wyoming Business Coalition on Health. To sum it up: she's the type of person we'd all be lucky to know.
Please tell us a little about yourself. 
I have a wonderful husband, four grown kids and two granddaughters. I'm a pretty lucky person and I'd rather be lucky than good any day. I've also been a banker as long as I can remember. I love Jonah Bank which is a community bank. I'm a firm believer in the community aspect of that part of our business and believe the accent should always be on community. I love Jonah Bank because we don't just say something, we do it. For me, making a difference in your own life is all well and good, but it's nothing compared to making a difference in other people's lives.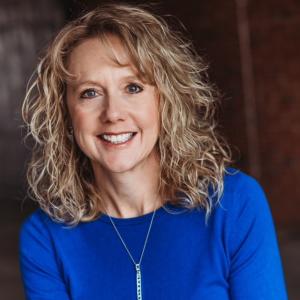 Who has influenced you the most when it comes to how you approach your work? 
I can't put my finger on one person, but I can put my finger on the state of Wyoming. When you live here, you become part of this community and it changes you. When we decided to start this bank, the concept of what it really means to be part of Wyoming grew and became bigger inside of me; my job is my community is my life. Wyoming as a whole instills in you that you need to work hard and do the right thing. There are times where it's incredibly tough, but Wyoming is not about immediate gratification. We're resilient people. This state—its resiliency, hard work, beauty and community of it—are what influenced me.
What personality trait do you attribute your success to? 
I don't ever shut up [followed by laughter]. I think it's just being human. I'm just another person like everyone else in my family and community and this bank; I'm one piece in the cobb of a wheel that helps it keep rolling forward. That's an important aspect – I don't ever let myself believe that I'm anything bigger than that. I'm a believer. I'm naive in many ways, but I'm a very positive thinker. Positivity would be my one thing.
How do you see women in business and politics, especially in Wyoming? 
We need more. We definitely need more. I don't think people from outside Wyoming understand how open and accepting the state is. This is not an environment where women are looked down upon and discouraged – I find it to be the absolute opposite. I think women in this state who have an opinion and a passion for something are not only respected, but they are sought out. They are asked to get involved. It's not as challenging…as it might seem. People in Wyoming rally around each other and it doesn't matter if you're a man or woman.
From a politics standpoint, it's amazing how many more women are finding their voice and getting involved. There is upward movement and I don't necessarily think there was anyone trying to keep it down, I think women are just finding their voice and finding less push back than they expected. It's exciting as all get out to see all these women getting involved and it sets an amazing example for young women. We may be the last generation that has ever seen this as a challenge, and that is cool.
Where do you hope to see women in the next few years? 
We make a big mistake if we try to generalize what women want to be doing and what they should be doing. Women should be doing what they want and if that means they should run a bank, then more power to you sister. If it means you're staying at home raising your kids, more power to you. The biggest mistake we can make is to assume that we know what women want to be doing.
From your modern-day perspective, what does it mean to you that the Wyoming Territorial Legislature passed a law 150 years ago giving women the right to vote? 
It says to me what anyone who lives in the state of Wyoming knows, that we are one of the most open and accepting and supportive states and group of people you will ever encounter. And we're never afraid to do anything first. We're very empowered as a state – we rarely wait for others to do something first and we rarely believe that others should forge the trail. It tells me that nothing has changed. That 150 years ago, the people here acted like we do – they forged trails, they took chances. That is a legacy we should be incredibly proud of. It's done us well in the past and it will do us well in the future.
Any words of advice for women out there? 
Find your passion and do it.