This years ski season is upon us, and before long, the mountain will be covered in snow and you'll be planning your first visit to Hogadon Basin Ski Area. As one of Casper's many jewels, we are just as excited as you are for opening day. But before you get too excited and race up the mountain unprepared, here's everything you need to know about Hogadon.
1. What Precautions Has Hogadon Put Into Place to Protect Visitors from COVID-19?
Things have certainly changed a lot since last ski season, and with help from industry ski experts and local officials, Hogadon has prepared a safe-opening plan for this upcoming season to help stop the spread of COVID-19. Some of the most notable changes to this years season include wearing a face-mask at all times, signing a contract-tracing sheet in the event that you need to be contacted by local health officials, capacity limits and the possibility of extended wait times to ensure social distancing is possible. Hogadon asks that, along with following a number of precautions put into place, that each guest stays self-aware and avoids the area if they have experienced any COVID-19 symptoms or have been exposed to a positive case in the last 14 days. 
2. How Much Will All The Fun Cost Me?
If you're interested in enjoying everything Hogadon Basin Ski Area has to offer all winter, we suggest looking into their season passes. Here's a quick price break down for you:
Adults (19  years or older): $450
Youth (13-18 years old): $385
Children (6-12 years old): $275
Young children (5 years or younger): It's free!
As an extra incentive to purchase a season pass, you'll also receive discounted rates at other ski resorts around Wyoming and neighboring states like South Dakota through Hogadon's partnership program. For anyone interested in daily rates, you can find them here. Keep in mind, you can purchase a full day pass (9 a.m. to 4 p.m.) or an afternoon half day pass (12:30 p.m. to 4 p.m.).
3. Will There Be Hills To Match My Skill Level?
Whether you've never skied before or you've been doing it for years, we guarantee that Hogadon will have trails to accommodate you. With two beginner trails to learn and practice on, "I've never skied before" is no excuse to not at least give it a try. If you're looking for something that's not too easy and not too hard, there's 8 intermediate trails that would have goldilocks saying, "they're just right". For anyone looking for a challenge, Hogadon Basin Ski Area offers 18 expert trails that'll keep you entertained all season long. For a full list of trails and to stay up-to-date on their statuses, click here.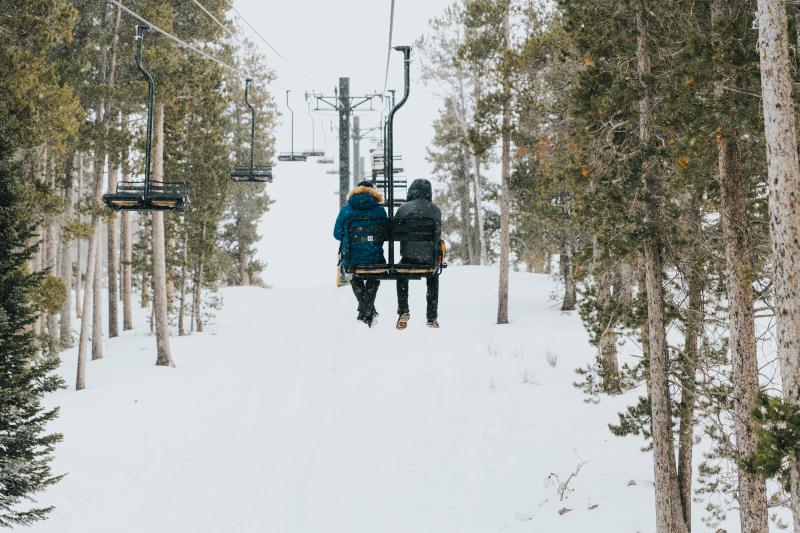 4. What If I Get Hungry?
After a few hours on the slopes, you're bound to get hungry. Thankfully, Hogadon has a food court with several options to chose from. For quick grab-and-go items, grab a bowl of soup or chili to warm you up, a salad or some yogurt. If you need a longer break from the cold, order a burger, chicken sandwich or even a freshly baked pizza. If you want a drink to reward yourself for making it down an expert hill without falling, there's also a full bar. Click here to view the full menu.
5. What Should I Wear?
There's no hiding it and there's certainly no avoiding it – Casper can get a little windy. Therefore, dress to protect. The wind can sometimes contain blowing ice and snow, so since you will already be wearing a face-mask in compliance with Hogadon's COVID-19 restrictions, you might as well just keep it on to ensure you're fully protected. Casper is also known for being blessed with the sun during the winter, and you can still get sunburned when it's cold outside! Make sure you bring sunscreen and sunglasses or goggles. One last tip, stay away from wearing cotton clothing like jeans, sweatshirts and sweatpants against your skin as it absorbs sweat and snow and will only make you colder. For more details on what to wear, here's some of Hogadon's recommendations.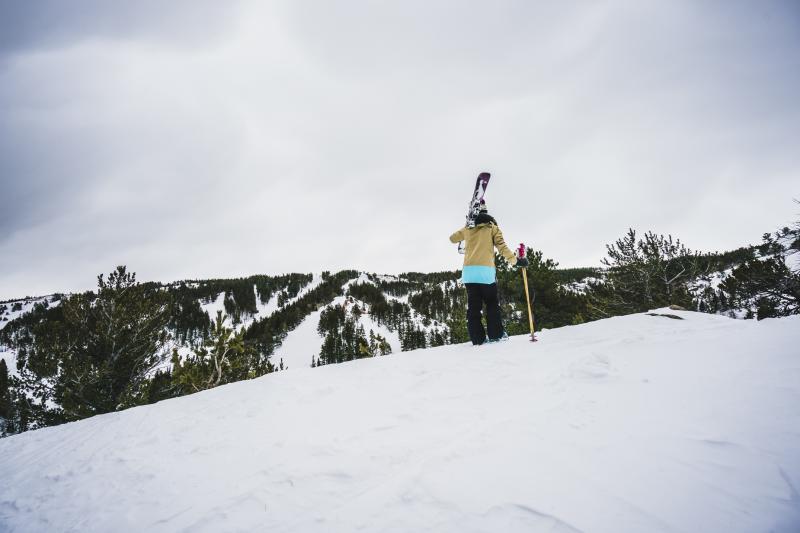 Photo Taken by Louis Arevalo
6. Do I Need My Own Equipment?
If you don't have your own equipment and are looking to rent it for the day, Mountain Sports and Zeelo's Cranks N Planks are both great options. Both shops will have skis, snowboards, boots, helmets and anything else you'll need for your snowy adventure on the mountain. Plus, Mountain Sports has a location at Hogadon Basin Ski Area so that you don't have to go out of your way to get what you need.