Casper is home to some of the most passionate fisherman in the world, and to them, fishing is a year-round sport. It doesn't matter if its 75 and sunny or if it's 10 degrees and snowing, our devoted fishing community has proven that you can enjoy American Angler Magazine's #1 Big Fish Destination in the winter just as much as you can in the summer.
Did you know that most of the largest fish are caught during the winter months? So don't let the cold break your fishing spirit. Just follow these tips and enjoy Casper's winter fishing scene.
Yes, You Can Fly Fish the North Platte In The Winter
Our friends at Wyoming Anglers say that there's no better time to fly fish the North Platte than in the winter. The river is less populated, the weeds aren't as heavy and temperatures aren't always as bad as most people assume. Wyoming has some of the most beautiful bluebird (clear, blue winter skies) days during the winter and the cold here is more of a "dry cold", so when the temperature is in the mid 20's or 30's and the sun is shining, your experience on the water can be incredibly peaceful.
The Upper Grey Reef is often referred to as the best spawning habitat on the river, and Wyoming Anglers states that in February, much of the larger fish migrate to this section of the Grey Reef. Therefore, the large density of fish in this small section creates some incredible winter fishing. The Ugly Bug Fly Shop even wrote on their last fishing report that "The Reef has been a hotspot for anglers looking to get out in the cold." Read their fishing recommendations here.
Ice Fishing At Pathfinder Reservoir
Pathfinder has been a reliable location for ice fishing in Casper over the years. Last year, the Wyoming Game and Fish Department stated that walleye averaged 14-inches and rainbows averaged 18-inches throughout the winter. This year, Pathfinder is looking even more promising as the ice has been looking good and reports of 20-inch trout and over 30-inch walleye have been coming in.
Pathfinder is also the venue for the annual "HAWG" Ice Fishing Derby. If you're looking to enjoy some incredible ice fishing while winning some money, this derby has a total of $57,000 in cash prizes. For a $35 entry fee, you can compete in competitions for the largest fish by weight and biggest catch per hour. So grab your gear and head out to Pathfinder Reservoir on January 25th-26th for your chance to win.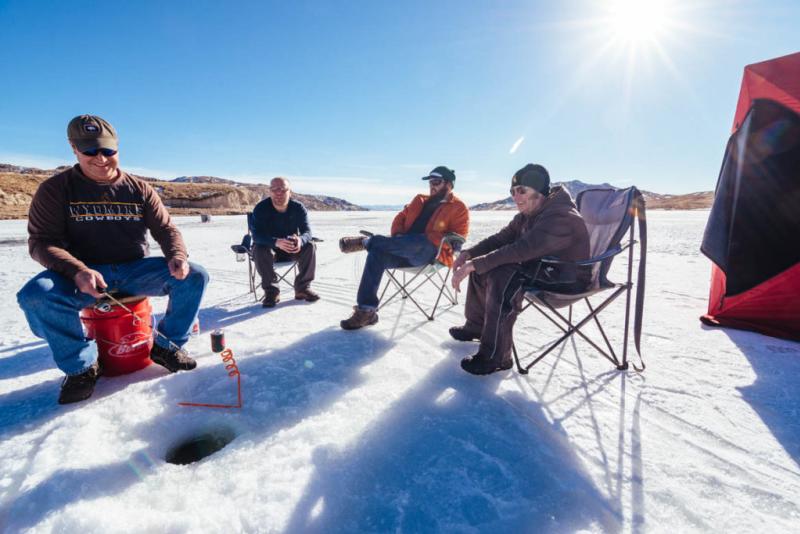 A New Hotspot For Ice Fishing
Thanks to The Casper Star Tribune, we have some inside details for you when it comes to top secret ice fishing locations. 29 miles northwest of Casper off of Highway 20/26, you'll find Goldeneye Reservoir. In the past, this reservoir has been known to be fairly unexciting during the winter, however the past four winters have proven that this reservoir is now a hidden gem. With almost no traffic during the week and only a couple groups on the weekends, you'll feel like you have the entire ice to yourself. And with the possibility of catching 10-pound rainbow, 5-to-6-pound cutthroat and 3-pound brook trout, you might find yourself spending your entire winter here.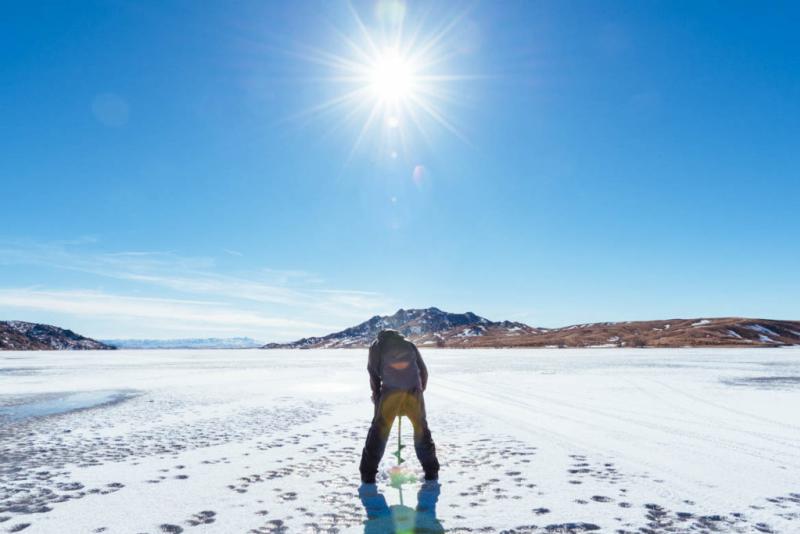 Winter Fishing Safety
Safety is one of the most important aspects to ice fishing, and you should always be checking the thickness of the ice carefully and often before venturing out onto it. Thanks to the Wyoming Game and Fish Department, we have a helpful infographic that will help you stay as safe as possible this winter.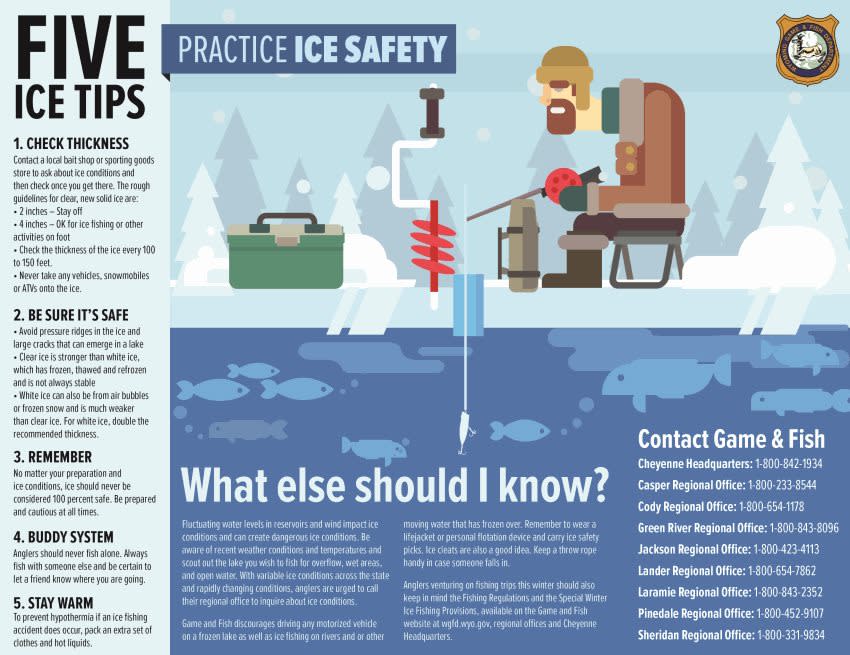 Fish Like A Local
Our Top 5 Fishing Secrets Only The Locals Know still apply in the winter. Whether your ice fishing for walleye out at Alcova, fly fishing in town or searching for a fishing tournament like the HAWG Ice Fishing Derby I mentioned before, these 5 secrets will help you make the most out of your next fishing trip.
The Cast: A Casper Fly Fishing Review
"The Cast" is a blog that's all about fishing in Casper. The author, Dave Zoby, is a Casper local who has written for Gray's Sporting Journal, American Angler, The Drake, Retriever Journal and many others. Most importantly, he's an expert fisherman and writes about his experiences in Casper while providing insight on anything related to our local waters. Check out some of his work, and sign up to receive the monthly emails here.