Pathfinder Reservoir in late summer splendor: the rev of jet skis grinding over the light chop; seagulls and white pelicans floating in the distant haze; the water level dropping each day, exposing white, bone-like rocks with an obvious high water line. Someone whoops in ecstasy. There's a radio playing along the beach. I hadn't fished Pathfinder since the spring, when it was just me and the rainbow trout. They cruised the shoreline, and I picked them off with crawdad patterns and articulated streamers that go for over six bucks at the fly shops. The water was clear back then. Now, in August, it was tinted green, and a scrim of yellow pollen floated on the surface.
This time I wasn't looking for trout. I had bigger dreams.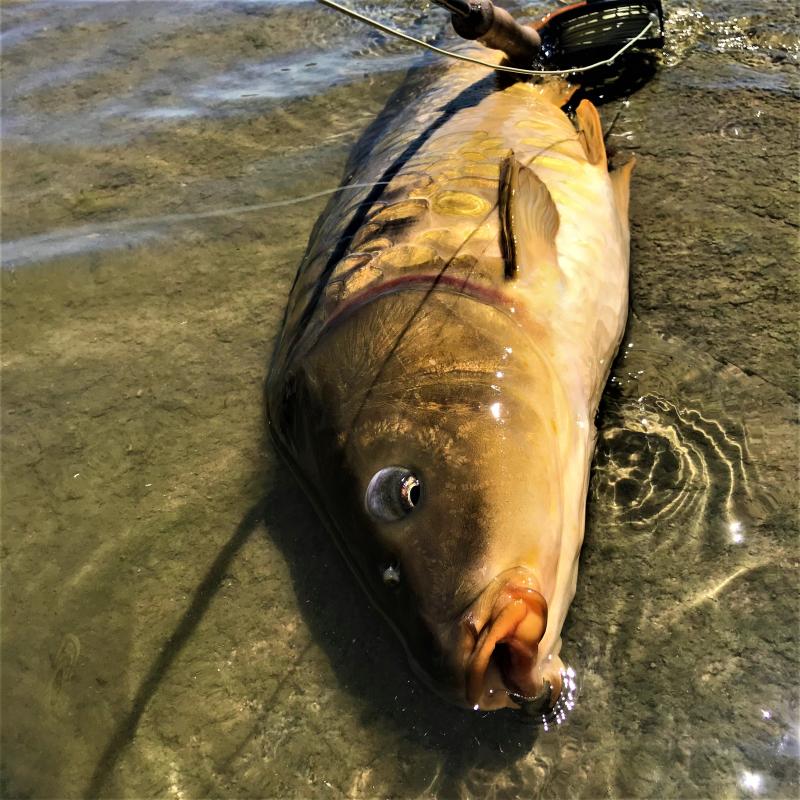 Many of the reservoirs and rivers in Wyoming support healthy populations of mirror and common carp, European imports that seem innocuous enough to ignore most of the time. Carp are omnivorous and are said to have memory that surpasses most fish. In Jay Zimmerman's Fly Fisherman article, "The 15 Best Carp Flies", the author claims that carp are more intelligent than most fish. "Carp have a longer memory and a better ability to learn than most fish we fly anglers are accustomed to," writes Zimmerman. They are thinkers, totally capable of learning from experience. Sadly, some American fisherman view carp as "trash fish", but they are held in high esteem in most countries. They are considered a worthy game species in Europe, and until the mid-1900s, they were widely eaten in America. In the wild, carp can top ninety pounds, but the fish I encounter in Wyoming are more like ten to fifteen pounds. Landing one on a fly rod is not easy. They say that once you catch a carp on the fly you become addicted and hardly think of other fish.
I knew there was a secret society in Casper that regards catching carp on flies as a threshold experience. In fly fishing magazines, carp-on-the-fly has become the next big thing. One of their endearing qualities is the range of flies they will take: vanilla buggers, dragonfly patterns, crayfish imitations, nymphs of all sizes and colors, and even flies tied to mimic algae and grass. People travel to fish for them, paying up to $500 a day. I first heard about Wyoming carp fishing many years ago when I was out at Grey Reef. I was talking to two anglers from Colorado who were fishing below the dam. They told me they had a guided trip the next day with Mark Boname, owner of the Platte River Fly Shop at the time, and that they had brought up their eight weight rods because they were going for "prairie bonefish." Mark was one of the first guides to pioneer the emerging sport of fly casting to carp. He went as far as purchasing a flats style boat that he can pole along the shallows of our lakes and reservoirs. He is the local guru on the subject. Today, several of the Casper fly shops offer full-day guided trips to Alcova and Pathfinder.
But if you know me, you know that I don't have enough walking around money for a guide, or a boat for that matter. I prowl the shorelines, or I stand, mid-current, in the best runs, my dogs somewhere nearby. I like to fail a few times. It makes success sweeter. I do, however, rely on the best intel I can gather. Last week I went into one of our local fly shops and enlisted one of the clerks to advise me on carp flies. He picked out a half dozen crawfish-looking patterns with big, yellow eyes. He also suggested a goofy-looking "worm" pattern. I didn't want the worm—it looked like a joke--but in these situations you have to go along with the process. The clerk showed my some of the better places to go. He liked the "flats" out where the Sweetwater flows into Pathfinder, some forty miles west of town.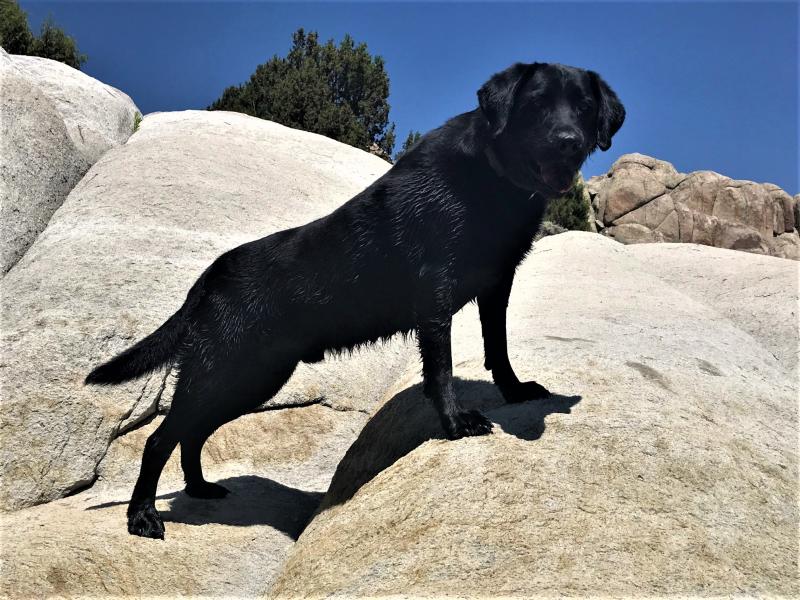 By 7 am, the sun was already up, baking the landscape. I made my turn on Highway 410 and cross the Sweetwater. The little stream was running clear. Littered here and there by the dried skeletons of carp, the river was too low to hold fish. The great, expansive flats where the clerk sent me was a beautiful wasteland of dead carp and shorebirds. Herds of antelope exploded from the waist-high grass and sped off into the haze. I strung my rod with a carp fly and walked the shoreline for an hour. My dog Henry ran forward and splashed in the water. But the water was only a few inches deep, and I knew I would have to relocate.
An hour later I was on the main branch of Pathfinder Reservoir. The water had dropped so much that I had high hopes of recovering some of the lost streamers from April. (Did I say already how much they cost?) I saw the dark, cruising shape of two carp. There were hundreds here a few months ago; now there were handfuls, pairs, and loners. They slowly drifted along the rock walls below. My cast was accurate, but as they tell you in the literature, carp are wary. The two fish bolted when my fly hit the surface. Either they could see my profile up on the rocks, or my presentation was not perfect.
For three hours I boulder-hopped along the shoreline casting to the dark shapes of fish. Failure, my old friend, seem likely. My first take occurred just before noon. I saw a large fish picking food along one of the rock faces. I placed my fly in his direct path and hid behind a boulder. I jiggled my fly until I felt a strange weight. The rod buckled and the fish ran my fly line out of my reel at a sickening rate. I was 100 yards into my backing before he slowed down. I was nervous that my backing would break and I'd be out ninety dollars' worth of fly line. But the big fish sulked out in the lake, out where the jet skiers and pleasure boaters roamed. If "The tug is the drug", as fly fisherman often say, I nearly overdosed there on the shoreline. It took a half hour to land the fish.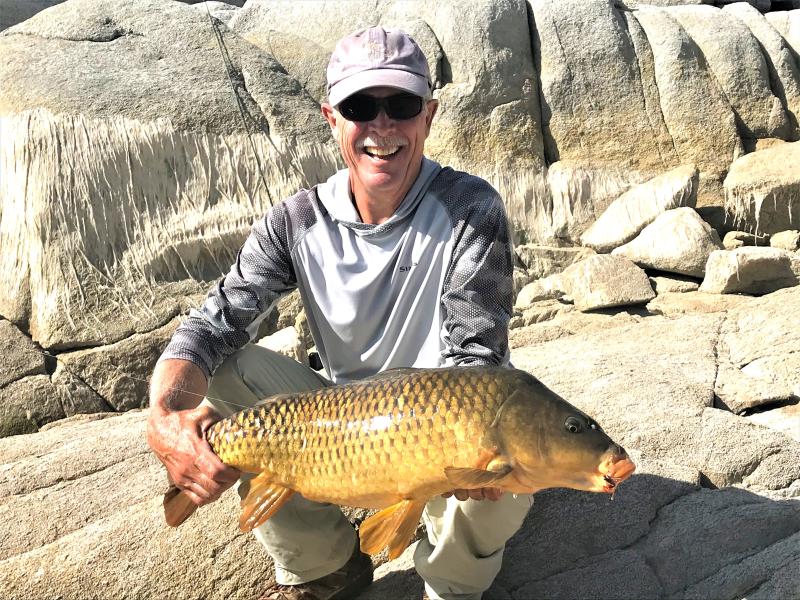 Henry stood on the rocks and watched as the carp eventually relented and came in. It was a mirror carp with beautiful golden scales that shown in the sunlight. I remarked his fleshy lips, his delicate barbels, his broad tail. Carp are beautiful in a certain light. You have to spend
your day amongst them to know what I mean. He regarded me with his large eyes as I worked to revive him. I watched him slide back amongst the submerge rocks. I righted myself, checked my fly, and rock-hopped to find another.