With summer rolling around, there's no better time to enjoy Casper's diverse waterways–and the multitude of activities that come with them! We may be situated in Wyoming's high plains, but our rivers, lakes, and reservoirs provide abundant opportunities for fishing, boating and more. 


The North Platte River
A fly-fisherman's dream, the North Platte River is the shinning star of the Casper area and meanders 718 miles from its headwaters in Colorado to its confluence with the South Platte River in western Nebraska. Flowing through the heart of Casper and Natrona County, the river is world-renowned for its fishing and is famous amongst locals for its accessibility to float, swim, kayak, and even surf its waters. 

Alcova Lake
Alcova Lake is one of the area's go-to summer attractions, covering nearly 2,500 acres and home to six campgrounds, sandy beaches and a full-service restaurant. Alcova's scenic setting is ideal for on-the-water fun, and is popular among sportsmen, boaters, campers and has the air filled with a celebratory spirit during the summer holidays. It's also a great place to cast a fishing line, as its waters are home to brown trout, cutthroat trout, rainbow trout, kokanee salmon and walleye. You can even access Fremont Canyon from the southwest end of Alcova Reservoir, or visit the Cottonwood Creek Dinosaur Trail, an interpretive route that takes visitors through geological eras right here in the heart of Wyoming.  
To get the most out of this beautiful lake, visit Alcova Resort (the onsite marina) to rent anything you might need for boating, kayaking, stand-up paddleboarding and more. 


Grey Reef
The Grey Reef section of the North Platte River is  about 25 miles southwest from Casper and provides some of the most famous trout fishing in the country. We're not just bragging; the Outdoor Channel's Curtis Fleming chose this stretch of the river as the backdrop for two recent episodes of his hit show Fly Rod Chronicles with Curtis Fleming and people travel from miles around to catch a 4 pound 20-inch rainbow trout in its waters. Amazingly, it remains just as beautiful and uncrowded as ever, with its private access achievable through guiding outfits like the Ugly Bug Fly Shop, Cowboy Drifters and more. 


Pathfinder Reservoir
About 47 miles outside of Casper you'll find Pathfinder Reservoir, a man-made lake with 117 miles of shoreline controlled by Pathfinder Dam. The Pathfinder Dam was built between 1905 and 1909, landing a spot on the National Register of Historic Places and includes a small interpretive center. The reservoir today is home to a marina, five campgrounds, trails and portions of the Pathfinder National Wildlife Refuge. And we'll let you in on a little local secret: it's also a prime location to fish for walleye, rainbow trout, brown trout and cutthroat trout. 


Fremont Canyon 
Fremont Canyon is a must see, known as one of Wyoming's best-kept secret. Just about 4 miles southwest of Pathfinder Dam, the canyon has intricate rock walls rising high above either side of the river, making it a prime location for casting a fishing line from the shore. Fishing the North Platte River here is known locally as "the meadow", where you'll find stunning geological views of stunning sandstone, limestone topography, and the Goose Egg Formation. 
Fremont Canyon is also one of our area's most beautiful places to kayak, canoe or boat with water access from Alcova Reservoir. Visitors can also indulge in high-quality rock climbing, sightseeing, hiking and mountain biking.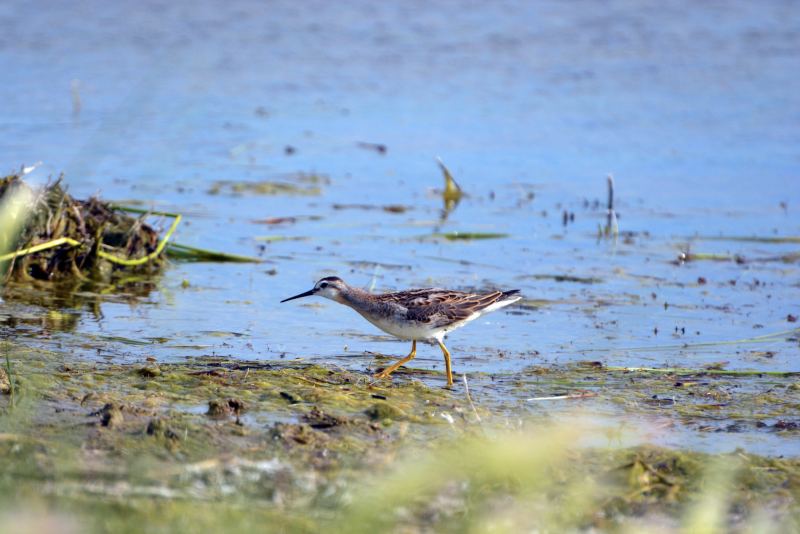 Photo: Wyoming BLM
Goldeneye Reservoir 
Nestled in the rolling hills of central Wyoming 29 miles from Casper, Goldeneye Reservoir is a kayak fisherman's dream, its gentle banks allowing for easy launching or beaching and very little boat traffic. With 488 acres of water covering its 1,153 acres of land, the reservoir also offers birders a unique opportunity to find shorebirds such as Wilson's Phalanthorpe, American Avocet and Black-Necked Stilts in the middle of the open prairie.
Anglers have been known to catch trout and walleye here, and wind surfers can get ample time on Goledneye's uncrowded, windswept waters. Bring the family for a fun summer afternoon swimming and spending quality time on the shores. 


Tate Pumphouse
For a uniquely-Casper experience, check out the Tate Pumphouse and its man made whitewater park for anyone wanting to spend an afternoon kayaking, tubing, or surfing Wyoming waters. Ride the waves of the river as it crashes over the rocks, experience impeccable fly fishing (we know what you're thinking and the answer is yes, there is no shortage of great fishing spots in Casper), or have a picnic and enjoy views of Casper's skyline with Casper Mountain as a backdrop.
Whatever water activity truly floats your boat (pun intended), Casper is a wonderful destination for some fun in the sun. From tubing to paddle boarding, fishing to floating, and everything in between, we have an abundance of things to do for everyone at our many rivers, reservoirs and lakes. No gear? No problem! Casper is home to locally owned gear and rental shops filled with local experts who know the waters best. You can check out our full list of rental providers, outfitters and guides here.