Although our mountain town got its name far before Casper the Friendly Ghost got his, that's usually the first association visitors make with Casper, Wyoming. You may be surprised to learn that there's actually no relation to us and ol' Casper. But, with that being said, here in the Oil City we are known for friendly locals, Midwestern hospitality and always, always holding the door open for strangers at the grocery store. So we will stand behind the accidental correlation between the two! 
However, the more you dive into the history of Central Wyoming the more you will realize that we may have more skeletons in our closet than we put on. From the stories and struggles of those who came before us to the historic buildings that hold their own goosebumps, Casper is a perfect destination for thrill-seekers and ghost chasers. 
To rally around spooky season in the heart of Wyoming, we're recommending ghost tours and other spooky experiences to indulge in below:

Take a Ghost Tour
With so much history in this ol' Western town, we're not one bit surprised when things tend to go bump in the night. If you're looking for a ghost tour sure to fright, look no further than the Fort Caspar Ghost Tours. Let the Caspar Area Paranormal Society guide you through this reconstructed 1865 military post where abandoned quarters, dark halls and rickety buildings await you. From the Native Americans who initially called the land home before the pioneers passed through on their way out West to the U.S. Army soldiers who dwelled here, Fort Caspar has plenty of stories to tell and ghosts of the past to encounter. 
Hour-long tours will be held on October 21, 22, 29 and 20, with tours leaving every 20 minutes. Tickets can be purchased first come, first serve at the Fort Caspar Museum or over the phone at 307-235-8462.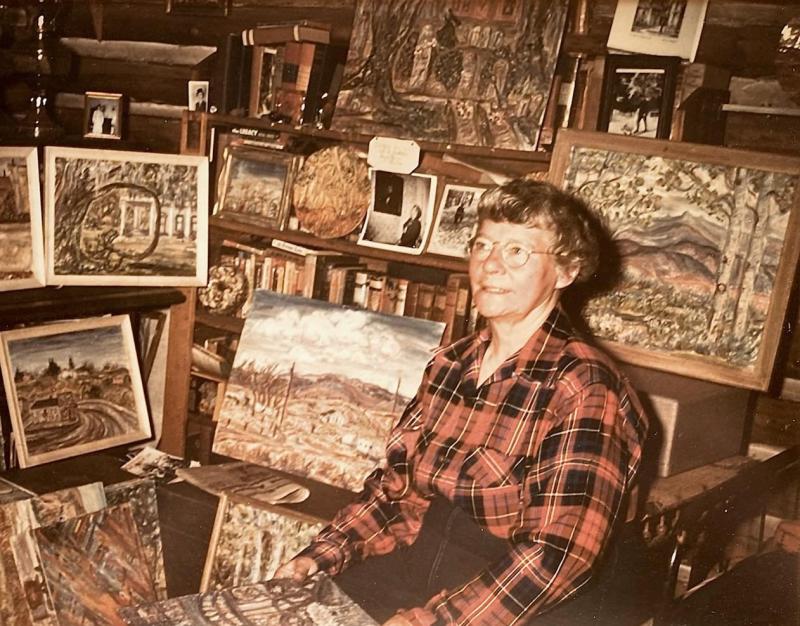 Get Witchy at Crimson Dawn
When the morning fog lingers on the peaks of Casper Mountain and the stars light up an October sky, we know spooky season is upon us here in Central Wyoming. Forgo the pumpkin carvings and apple cider tastings in town and define your own haunted experience with a slow drive up Casper Mountain to Crimson Dawn Park & Museum. 
Here you will be beckoned by vast, mountain landscapes, warm cabins and the enchanted world of Neal Forsling's creative and inspirational legacy. You see, back in the late 1920s, Neal Forsling and her two daughters, Mary and Jean, used to dwell in the log cabin alone together which now stands as the Crimson Dawn Museum. The log cabin and the surrounding land play host to the momentos of their life on Casper Mountain so long ago.
However, Mrs. Forsling was not your average mountain mama. She was a painter, a writer and a storyteller who's art was rooted in mythology. Neal found inspiration amongst our beloved, Western landscapes, brought them to life with her own dreams and visions and shared them with her daughters. Her most iconic story includes 7 Crimson Dawn witches and other spiritual characters who used to come out and celebrate summer solstice with her and her daughters. 
Although the museum is closed during winter months (and high time for Crimson Dawn is their summer solstice event every June), the Park makes for the perfect, spooky getaway in our mountain town. Walk alongside the old log cabin down winding mountain roads past old graveyards, and, oh yeah, watch out for the witches - they may just put a spell on you! For more information visit Crimson Dawn Park's website here. 
P.S. Love the imagination of Neal Forsling? Casper has more where that came from. The art exhibit "Through the Artist's Eyes" showcasing her collection is now showing at The Nicolaysen Art Museum through December 28th!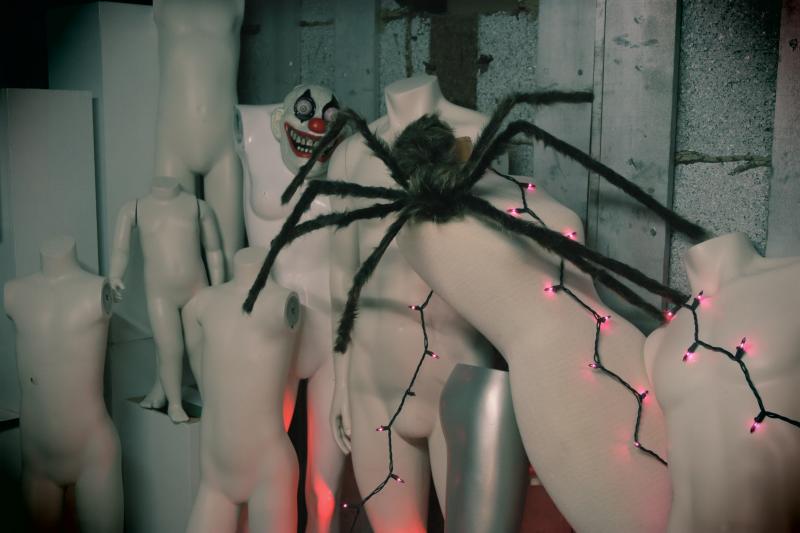 Photo: Angela Beeson Wallace
Attend Art 321's Feast & Fright Dinner
A frightfully good time? Sign us up! Art 321 is hosting an elevated dinner on Friday, October 28. Doors open at 6:30 p.m. Coming to life in their mannequin filled, industrial basement (that used to be an Old Pacific Fruit Warehouse in downtown Casper!), the night will entail costumes, libations, spooky delights made with love by Yellowstone Garage and a "scare menu" where you can place an order to scare your guests or another table's guests! For more information and to purchase tickets/ reserve a table, visit their website here. Deadline to purchase tickets is October 21. 
Dying for a little sneak peek behind Feast & Fright? Watch this.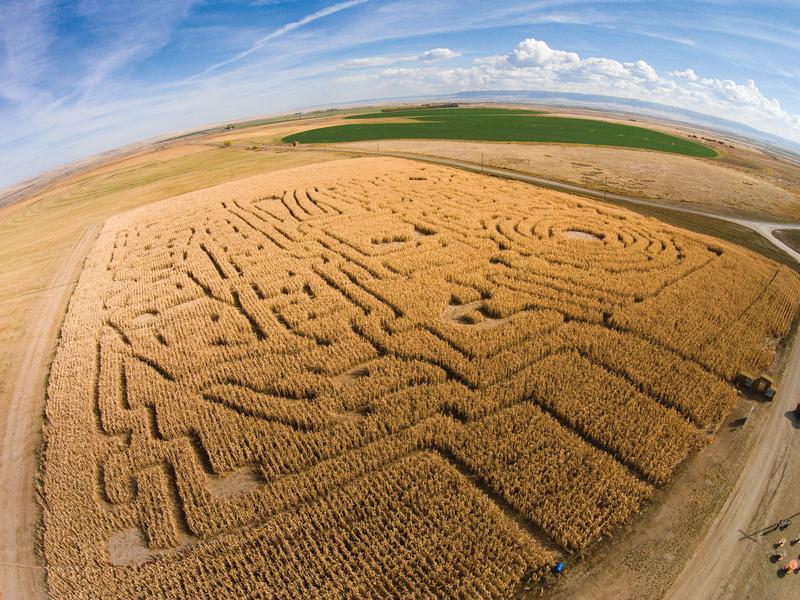 Get Lost in the Green Acres Corn Maze 
Whether it's flashbacks to classic horror movie scenes or the path to the unknown, the Green Acres Corn Maze is just as eerie as it is delightful. Spanning eight acres with three different paths, the Corn Maze has a way of drawing you in and encouraging you to stay awhile. Stroll along jagged walkways of towering corn stalks as the sun sets along an open prairie. Let the maze bring your imagination to life, yet don't get lost... you never know what kind of creatures will come out at night! 
The Green Acres Corn Maze is open Saturdays and Sundays from 10 a.m. - 6 p.m. Visit their website here for directions and more information.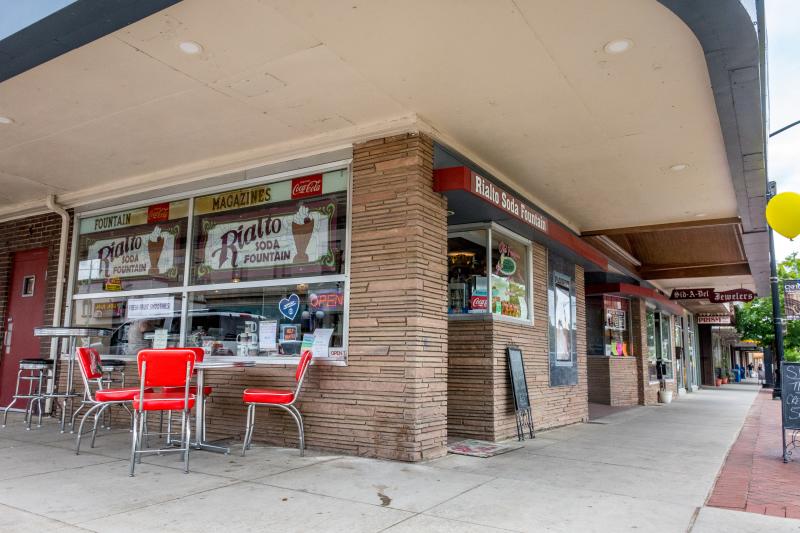 Visit the Haunted Rialto Soda Fountain
In 1928, the Rialto building was built in historic downtown Casper where it was a cigar and soda shop until the 40s. The corner building, that is also home to one of Casper's oldest movie theaters, has always been known by locals to be haunted. However, in 2017 when the Rialto Soda Fountain undertook new ownership, the decades of stories and rumors stood true. 
Rob Piotter, his wife and his staff noticed strange activity in the old shop right away. Objects moved without reason, corners of the building carried their own unexplained, cold draft and Piotter had many clients come in asking about "the old man smoking behind the bar". He swears that this lingering soul is the previous owner.
Believe it or not? Stop in the Rialto Soda Fountain yourself and see if something stirs within you... or around you. 
May these spooky Casper experiences inspire your next haunt! Did we miss anything scary and noteworthy worth mentioning? Let us know, and we will be sure to add it to the list!