When it comes to planning a trip to any national park – including Yellowstone – half of the fun is getting to the destination. Here in Casper, Wyoming, we sit along The Road to Yellowstone and if you're taking a road trip to the world's first national park, chances are you're going to cruise through our mountain town on the way. And while portions of Yellowstone National Park are not accessible (more on that here), three of the park's five entrances are open and provide access to the south loop. 
To help you have the best trip and soak up some of Wyoming's coolest places, here are six things to do on the way to Yellowstone National Park. 

1. Visit Casper and its Charming Downtown.
Ok, you probably knew this one was coming, but it had to be on the list. You see, sometimes people just cruise past our mountain town on I-25. And we get it – maybe the interstate that runs through our area isn't the most visually appealing – but we're here to tell you that if you take two minutes to pull off I-25 and come to downtown Casper (which is four blocks away), we're a pit stop worth taking. While we're partial, we're being honest when we tell you that Casper's downtown is cute, charming, quaint and has the perfect touch of western vibes. Swing into Lou Taubert Ranch Outfitters to get a perfectly fitted cowboy hat. Taste the flavors of Wyoming at Backwards Distilling Company's tasting room or Frontier Brewing. Or simply wander through the many local storefronts that are home to restaurants, boutiques, coffee shops, watering holes and more. Time it right and you can catch a local festival or market at David Street Station.
Want more? Head up to Casper Mountain and Garden Creek Falls, book a guided fly-fishing trip on the North Platte River, go see Dee, the Columbian mammoth, and Lee Rex at the Tate Geological Museum (he's the first T-rex found in Wyoming to stay in Wyoming) or have dinner and a drink at Gruner Brothers Brewing. You can find even more things to do here.  

2. National Historic Trails Interpretive Center.
If you don't do anything else in Casper, the National Historic Trails Interpretive Center is a must. Overlooking Casper and Casper Mountain, the Trails Center shares the story and history of the area, with highlights that include American Indian tribes, interactive and hands-on exhibits and tales of the Oregon, Mormon, Pony Express and California trails. It's also a great stop for families to stretch their legs, get some energy out and have kids ride in a wagon across a simulated North Platte River. Plus, entry is always free. Insider tip: After touring the Trails Center, set out on the actual Oregon Trail with Historic Trails West.
3. Wind River Canyon.
Just under 2 hours from Casper is Boysen State Park and Wind River Canyon. The Wind River Canyon Scenic Byway starts at Shoshoni and ends just outside of Thermopolis. As you travel through the canyon, you'll pass towering rock walls and travel along some of the world's oldest rock formations. Take your time and take advantage of the pullouts along the way to simply stop and soak in the view. We recommend grabbing a to-go lunch from Grant Street Grocery in Casper and enjoying it at one of the roadside pullouts.
4. Soak at the Wyoming State Bathhouse.
Thermopolis, Wyoming, is home to the largest mineral hot springs in the world and Hot Springs State Park. Stop and soak at the State Bath House, which is free. Relax, soak your muscles and enjoy the 104-degree waters of the pool. It's easy to fit this into your itinerary on the way to Yellowstone National Park, as there is a time limit of 30 minutes per person for a soak. Have more time? Visit the Wyoming Dinosaur Center, also located in Thermopolis.
5. Visit the Meeteetse Chocolatier.
Home to under 500 people, the small town of Meeteetse is one of the places you should stop in on your way to Yellowstone, specifically to pop into the Meeteetse Chocolatier. Founded by a saddle bronc rider – Tim Kellogg – who started making truffles to earn money for a new saddle, today the Meeteetse Chocolatier makes some of the best chocolates in the West.
6. Buffalo Bill Center of the West.
Chances are, if you're heading to Yellowstone National Park from Casper this summer, you're going to enter the park from the east entrance near Cody, Wyoming. When you're in Cody, our charming neighbor to the north, a visit to the Buffalo Bill Center of the West should be high on your list. Home to five museums, the Buffalo Bill Center of the West houses the Buffalo Bill Museum, Plains Indian Museum, Cody Firearms Museum, Draper Natural History Museum and the Whitney Western Art Museum.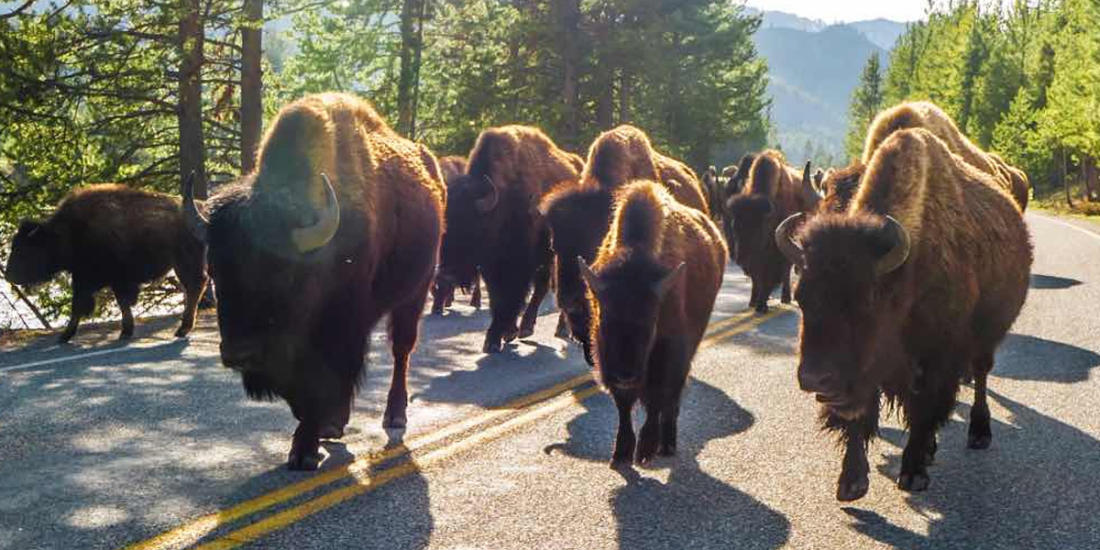 Want more information about The Road to Yellowstone? Order our free planning kit here. Or if you're interested in more trip inspiration for your travels through Wyoming, you can find that here. For the latest information on flood recovery and current operations in Yellowstone National Park, visit the NPS website.