If you're planning a trip to Casper, we're here to tell you about some of our favorite iconic must-see places. From history to cowboy boots, there's so much to discover on your visit.
National Historic Trails Interpretive Center. For one of the best history lessons around Casper, you need to check this place out. You'll learn all about the Oregon, California, Mormon and Pony Express trails through immersive and hands-on exhibits. As a bonus, you'll get one of the best views of the city from here.
 
Bar Nunn. A former airfield a short drive from Casper, Bar Nunn is a place you need to see to believe. The town itself was built on an old airfield, with three paved runways and an unpaved runway. Be sure to take a drive around Bar Nunn to see how new life has been breathed into the old runways. Hungry? Grab lunch or dinner at The Hanger Bar & Grill.
 
Tate Geological Museum. Fondly referred to as The Tate, this museum is located on the campus of Casper College. When you visit, you'll be welcomed by Dee, a Columbian mammoth and get the chance to see (and maybe even touch!) Lee Rex, the T-Rex as you explore the museum.  ​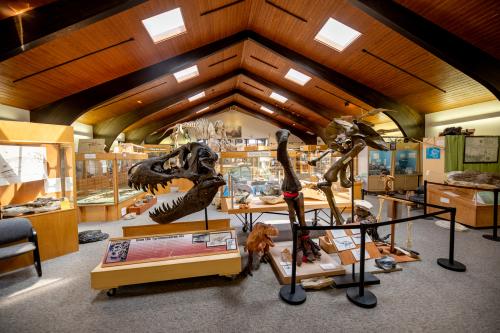 Independence Rock. Located 50 minutes outside of Casper is Independence Rock, a huge granite rock that displays the names of westward travelers that were seeking a better way of life 150+ years ago. Today, visitors can walk around Independence Rock and see the thousands of names of these travelers carved into the rock, with the oldest modern-day inscription dating back to 1824.
 
Lou Taubert Ranch Outfitters. With nine floors of western attire and 55,000 square feet of space, Lou Taubert Ranch Outfitters is the best place to find boots, hats and western clothing in central Wyoming. This family-owned shop has been around for more than 100 years and is home to 10,000 pairs of boots in every shape, size and color you could dream of.
 
Fort Caspar Museum and Historic Site. Sitting near the North Platte River, Fort Caspar is a reconstructed 1865 military outpost that welcomes travelers to explore the area's history and heritage. When you visit, be sure to peruse the visitor center, followed by touring the grounds.