Gruner Brothers Brewing
1301 Wilkins Circle, Casper, WY 82601
(307) 439-2222
Visit Website
details
Whether you live here or you come here to play, you obviously get it. After a hard day's work or play, you will love our crisp, refreshing craft beers. We aren't superheroes…we are just two brothers making great beer. CHEERS!
Events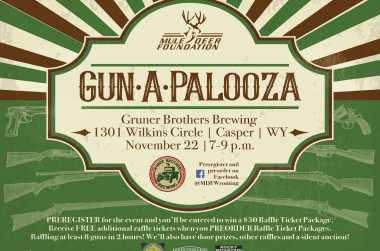 Nov 22
Gun-A-Palooza in Casper!
November 22, 2019
Join us for the Gun-A-Palooza, a lively and quick event, where the Mule Deer Foundation will be hosting a large Gun raffle....