Casper is home to some of the finest restaurants in all of Wyoming, but did you know we also have eight breweries, all serving up one-of-a-kind beer? As the winter months become colder and windier, winter can tend to grind our gears…the cure: a Casper brewery tour. Whether you visit them all in one night (be sure to drink responsibly and have a designated driver) or hit up one a week, it's a great way to make summer feel like it's right around the corner.
Learn all about Casper's breweries below:  
Skull Tree Brewing: Located at 1530 Burlington Avenue, Skull Tree Brewing is the home of tasty made-right-here brews. You can visit them Tuesday – Saturday (3 – 8 p.m.). This cozy joint is only four years old but has a great vibe and awesome brews, complete with outdoor patio seating. They will be having a Cajun Mardis Gras Party with food, beer, dancing and more on Saturday, February 11th from 6 – 10 p.m.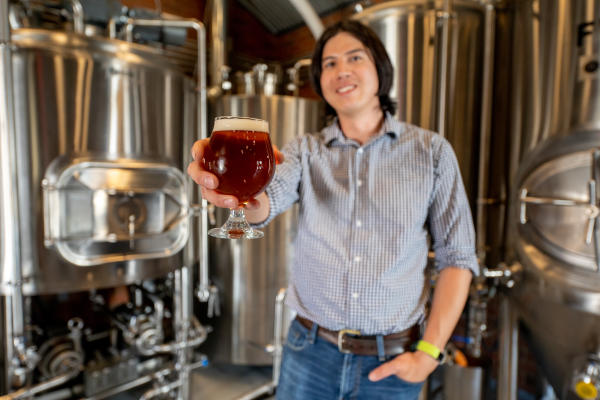 Frontier Brewing: You'll find this pour-your-own-beer tap room at 150 West 2nd Street in the heart of downtown Casper where you pay by the ounce, create your own flights, tasters or even pour a pint of your favorite brew. Frontier Brewing serves up small batch, craft beer that you're sure to love. In addition to beer, enjoy trivia night every Wednesday night, as well as live music every Saturday evening. Try their one-of-a-kind beer Tuesday – Friday (3 – 10 p.m.) Saturday (11 a.m. – 10 p.m.) and Sunday (10 a.m. – 10 p.m.).   
Stahoo's Brewing: A Polish vibe comes to Casper with the opening of Stahoo's Brewery. Stahoo is a Polish nickname for Stanley, which honors the owner's grandpa who was the child of Polish immigrants that made their way to America. Jim (who owns and brews at Stahoo's Brewing) has been experimenting and creating craft beers for over 10 years, and loves inventing new flavors. Each beer you taste here is named after family, friends and events with a humorous twist. You can visit this family-friendly brewery at 1015 East C Street every Tuesday – Saturday from 3 – 9 p.m.
Mountain Hops Brewhouse: This 3 Barrel Brewing craft brewery offers some of Casper's most unique flavors. If you're in the mood to try something new – including a peach or raspberry beer flavor – this is the place for you. Mountain Hops Brewhouse constantly changes their flavors and are reviewed as one of the top breweries in Casper. Visit them at 612 North Beverly Tuesday – Friday (3 – 8 p.m.) and Saturday (11:30 a.m. – 8 p.m.).
Bull Horn Brewing: This Casper staple was the 2022 People's Choice winner at the Booze and Bacon Festival in Casper, impressing all those who sipped. In addition to their unique beer, you can grab a bite to eat at By the Horn Gourmet Eats. If you're a sports fan, this is the place for you with six different TVs for you to watch the game, drink a beer and enjoy some wings, making the perfect relaxing evening. Visit Bull Horn Brewing at 2027 East Yellowstone Highway, Monday – Thursday (11 a.m. – 11 p.m.) Friday and Saturday (11 a.m. – 12 a.m.) and Sunday (10 a.m. – 9 p.m.).
Black Tooth Brewing: This three-city establishment is one of Wyoming's finest craft beer companies. Other locations include Sheridan and Cheyenne, but we think Casper's location may be the most fun. You can enjoy some of Wyoming's most-loved craft beer – where some drive 90 miles each week to pick up their favorite drink because it is that good. Visit Black Tooth Brewing in downtown Casper at 322 South David Street Suite A, Monday – Thursday (12 – 10 p.m.), Friday and Saturday (12 – 11 p.m.) and Sunday (12 – 7 p.m.).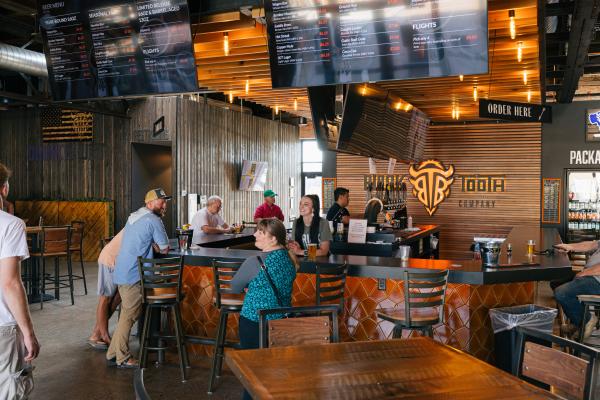 Gruner Brother's Brewing: Ben and Daron Gruner are Wyoming brothers that had a dream that they both made come true. Located in the old Casper Petroleum Club (1301 Wilkins Circle), you can enjoy craft-beer and even take a tour of their brewery while learning the history and story behind their genius work. Connected to Gruner Brother's Brewery is Petro Pub, serving up a wide variety of food including flatbread pizzas. You can visit this brewery – complete with sweeping views of Casper and an outdoor patio –Tuesday – Thursday (3 – 9 p.m.), Friday (3 – 10 p.m.) and Saturday (12 – 10 p.m.).
Oil City Beer Company: Established in 2020, Oil City Beer company has been thrilled to put down roots in Casper. Located at 4155 Legion Lane, this establishment is known for its comfortable family-friendly atmosphere with board games and corn hole to help you relax and enjoy your time. While you sip on a beer, your kids can enjoy ice cream and their own special kid-friendly drink. Oil City Beer Company is open daily: Monday – Thursday (4 – 9 p.m.), Friday (3 – 11 p.m.), Saturday (11 a.m. – 11 p.m.) and Sunday (12 – 8 p.m.).
For more information on other activities to enjoy around Casper, start your search at www.VisitCasper.com.