Not that we're complaining or anything, but what in tarnation is up with all this dang rain? If there's one thing it's making us miss, it's summer nights spent out on our favorite local patios. The opportunities to spend an afternoon with friends and family eating local bites and sipping local brews have been slim, but once the afternoon rain storms stop, don't hesitate to seize them!
Here are five of our favorite outdoor spots to check out this summer:
1. Gruner Brother's Brewing
For one of the best locations in all of Casper, Gruner Brother's Brewing patio is large and spacious and has a sweeping view of Casper Mountain. Sipping on a local brew and watching the sunset on Gruner Brother's patio is a must-do in summer.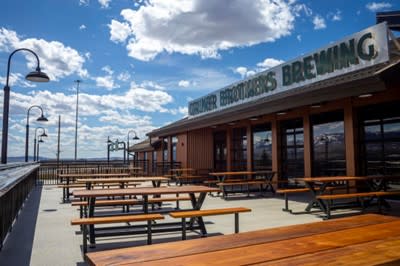 2. The Office Bar and Grill
A longtime hub in the Old Yellowstone District, The Office has a partially shaded outdoor patio that's the perfect place for kicking back after a long day at work. It's also an ideal spot to pre-game on the weekends, with a gorgeous pergola and flowers that create the perfect summer vibe.
3. Racca's Pizzeria Napoletana
If you're like us, you're probably always in the mood for pizza, especially when it tastes like it comes straight from Italy. Racca's wood-fired pizza is some of the best in all of Wyoming, and we're lucky enough to have them right here in Casper. Located in the Old Yellowstone District, this old brick building has the most charming patio to enjoy lunch and dinner with some of your best people.
4. Wyoming Ale Works
Offering a low-key dining vibe, the patio at Wyoming Ale Works is the perfect place for a late afternoon happy hour or cozy date night. Plus, it has two fireplaces, cozy seating, lush flowers and bistro lights. Our advice: take advantage of their happy hour specials (3 – 6 p.m. daily) and enjoy favorites like bacon deviled eggs, crab-stuffed jalapenos or a classic meat and cheese board.
5. Fire Rock Steakhouse
If you're in the mood for some of the most delicious steaks and seafood in all of Wyoming, we think you'll agree that Fire Rock Steakhouse is one of the absolute best. Their beautiful building and large patio area – surrounded by flowers and great mood lighting – make Fire Rock's patio one of the best places to enjoy dinner in all of Casper. P.S. try their new Yak burger if you get the chance. It's delicious and comes straight from Star Valley Ranch, right here in Casper!