Gallery
Ramkota Hotel & Conference Center
details
Located in downtown Casper, WY, the Ramkota Hotel is just minutes away from local area attractions such as Ft. Caspar, The National Historic Trails Center, Tate Geological Museum, The Nicolaysen Art Museum & Discovery Center, Alcova Lake, Hogadon Ski Area, Casper Mountain Biathlon Center, Old Yellowstone Shopping District Downtown, Central Wyoming Fairgrounds, and the Casper Events Center. Stay with us and enjoy hotel guest room amenities, a complimentary hot breakfast buffet, indoor water play land, restaurant, lounge, and flexible event spaces for up to 1,000 people.
Amenities
General
Airport Shuttle:
Complimentary breakfast:
Fitness Center:
Guest Laundry:
Meeting/Convention Facilities:
Pets Allowed:
Restaurant:
Swimming Pool:
Events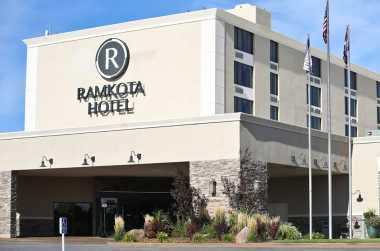 Feb 02
Super Bowl Party
February 2, 2020
Are you ready for a super bowl party?! We sure are! Stop in and watch the game with us, we'll do all the prep and clean...