Central Wyoming Fairgrounds
1700 Fairgrounds Road, Casper, WY 82604
(307) 235-5775
Visit Website
details
The Central Wyoming Fairgrounds offers a wide variety of buildings and grounds that are suitable for a number of different events. The grounds feature indoor and outdoor arenas, a large industrial building, exhibit halls and more.
Map
Events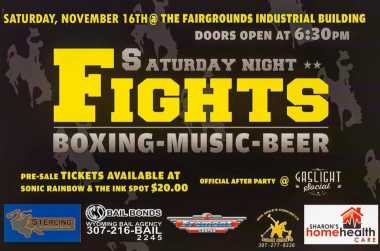 Nov 16
Saturday Night Fights
November 16, 2019
12 live, full contact, boxing matches, 10 amateur, 2 professional, one championship bout, and one women's bout!! Drinks,...