Meet Diane McGinley
Diane McGinley is a woman of many talents. She's a wife, mother and former schoolteacher who is now the Director of Operations at McGinley Orthopedic Innovations. She also puts her 18 years of teaching experience to use as a course manager at McGinley Education. Basically, this woman is one of the nicest powerhouses you'll ever meet. As she inspires people around her every day, we sat down with Diane to learn more about the woman she is.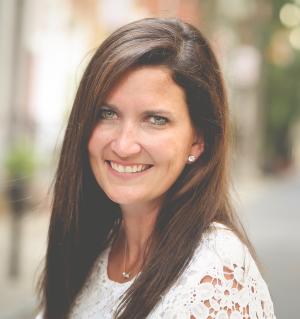 Tell us about yourself and McGinley Orthopedic Innovations. 
At McGinley Orthopedic Innovations, we are trying to improve patient care by using the latest in technology to make orthopedic surgeries safer for patients. As part of this, we only make products that have a patient-safety focus. We love that we can do this in the state of Wyoming and we firmly believe we couldn't have done it anywhere else.
What personality trait do you attribute your success to? 
Compassion. I care about what I do and make sure my work is meaningful and that I can impact the lives of others for the better. Perseverance is huge as well. It's important to be able to ride through the lows and celebrate the highs and embrace those moments along the way that reveal our success, instead of just skipping over them. When I came to Wyoming, I learned about cowboy ethics and that has stuck with us – it's the idea of doing what has to be done.
From your modern-day perspective, what does it mean to you that the Wyoming Territorial Legislature passed a law 150 years ago giving women the right to vote?
I've lived in many states and one of the things I love about Wyoming is the premise that it really is this home, not only of your house but of the greater community of this place. Back then, they saw an opportunity to recruit people to stay instead of just pass through this territory. This is something we need to continue to focus on and the idea of how can we get those who call Wyoming home to stay here, and how can we attract others to our state with their new ideas and entrepreneurial spirit?
Those of us who live here appreciate it, but sometimes it feels like a little bit of a secret. It takes just one visit to Wyoming and people are hooked. As a state of many first, we need to have the next first to recruit others to come into and stay in Wyoming. It's important to our economy, how we grow and the future we have.
Where do you hope to see Wyoming women in the next few years? 
Great things are already happening in our state, and it's really inspiring to hear about the women in Wyoming who are doing amazing and challenging work. It's the idea of exposure and letting people know the great things that are already happening here. I hope connectivity continues to happen and that we keep the traction going as we share our successes so we can inspire others.
Any words of advice for women out there? 
To thine own self be true comes immediately to mind. You need to find and follow your passion and finish what you start. Allow the failures to come at you, embrace those, learn from them and move through them.