Meet Amber Pollock
Amber Pollock is best described as a mover and shaker. As the co-founder of Casper's first distillery, she's a driving force in the city and across Wyoming, where she works with local restaurants and watering holes to create custom cocktail menus made from Casper-distilled spirits. A native of Casper, Amber's a musician, former school music teacher and one of four founders (along with her brother and parents) of Backwards Distilling Company. Amber and her family celebrated their fourth anniversary at the distillery in December 2018 and recently released their first-ever aged product, whiskey. She's a steady force in Wyoming's second-largest city and truth be told, we're lucky (and super grateful) she's here. Sidenote: learn more about Amber and her family by watching this video.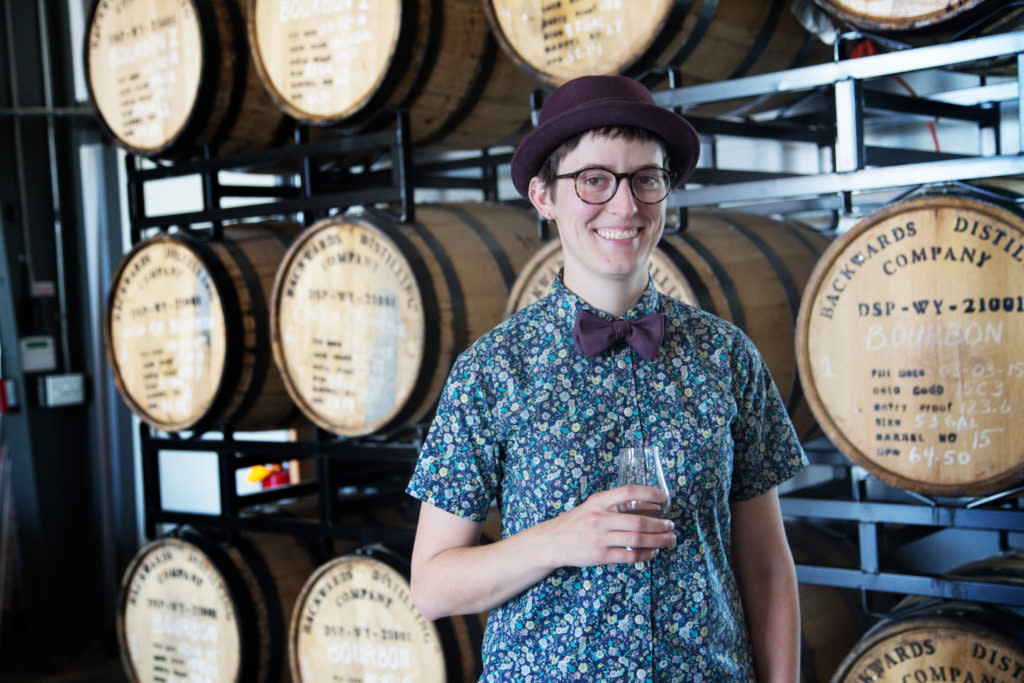 What has influenced you the most when it comes to how you approach your work? 
Two things: working with my family and operating in the community of Casper. Growing up, I watched how hard my parents worked and now I'm alongside them. They have a "do it yourself" attitude and together we started a business where we didn't know how to do most of the things we're doing now. We had to figure it out – it was just us. That attitude has influenced me and given me the motivation and willpower to sort it out myself. This distillery went from our imaginations to a real-life thing and we had a lot to figure out along the way. Everyone has good ideas, but not everyone pursues them. My parents instilled in us the ability to go and get something if we wanted to.
This community has also influenced me. Originally, I was so focused on the business and it has grown into the web of other entities that operate in conjunction with one another to create the community of Casper. We're all working for a common goal of making Casper a great place to be.
What personality trait do you attribute your success to? 
An adventurous spirit. I didn't know where this was going to go, but decided I'd embrace it and see what happened. That's how I thought of the brewery when we first had the idea – that this was going to be a great adventure filled with moments that are scary, hard and amazing.
What's one thing most people don't know about you? 
For the first 25 years of my life, music was such a part of my identity. These days many people know me from being the "vodka girl" and have no idea about this other part of me. I've been playing the violin for 22 years and continue to teach private violin lessons in Casper.
From your modern-day perspective, what does it mean to you that the Wyoming Territorial Legislature passed a law 150 years ago giving women the right to vote? 
That's part of where we got our name as the Equality State and it's a mantle that takes work to uphold through time. It's a call to everyone here; it's our charge to push that idea and that motto forward and make sure our modern society is reflecting those historical ideals. To me, that's a daily call. We live in the Equality State and there have been people throughout history who have worked to make it be that way. It's incumbent upon each of us to continue to move that ideal forward. Equality is a state of perfection; it's a target we don't necessarily hit, but it's something we should strive for. This anniversary is a good reminder to us that this is something we should be working for in our daily lives in this state and all states.
How do you see women in business and politics, especially in Wyoming? 
Honestly, I think we still are underrepresented in politics, especially. I know a lot of women business owners and women who have leadership roles in companies and there are a lot of women doing good stuff in Wyoming's business world. What we're lacking is female representation at the local or state level. We've seen a national shift in women in politics and I'm sure that will continue to develop in Wyoming.
Where do you hope to see them in the next few years? 
Well, everywhere. In the business world there are some good trends with women opening their own businesses and partnering with others. A lot of cool companies are being run by women in Wyoming. I'd also like to see women being more active in the political sphere; you don't have to be elected to be active in politics. Getting to meetings and sessions, just being present and involved is really important. If we're not showing up to make the female-perspective known, it's much easier to forget about it when differences of opinion are being considered in the legislative arena. We have to make sure we're participating. One of the cool things about being in Wyoming is that our representatives are very accessible. Even though our elected body this year doesn't represent our demographic equally, we can still have our voices heard there if we're active. I'd like to see more women active in that sphere in the coming years.
Any words of advice for women out there?
To find your people and push forward together for the things that are important to you. But really, most women know what to do. They don't need advice from me.
Backwoods Distilling Company