This week a college buddy drove up from Colorado with his ten-year-old son Beau. Beau loves to fish. When he's not fishing, he's watching videos about fishing, or buying fishing equipment.  Beau's dad says the kid hates work and chores; you can't get him to mow the lawn. But he's always ready for a fishing trip. In a lapse of judgement, I promised the boy that we could catch thirty trout apiece at one of the local lakes. I should have known better. 
Of course, the fish were atypically closed-mouthed the day we went. They wanted my hopper patterns, but Beau struggled to cast a fly rod. We tried a fly-and-bubble, but the big, clear casting bubble spooked the fish. I let him fight the feisty trout I hooked, but he wanted to catch them all by himself. After a quick and sloppy cookout of hot dogs, potato chips and iced tea, we decided to go to Jessica's Pond. I had mentioned earlier the various species in the pond: golden trout, brook trout, grayling, browns and rainbows. Beau is a "species guy", a fisherman who likes to run down the list of all of the different species he's caught. The idea of Jessica's Pond formed in his mind as a place he could knock off several new species, and he wouldn't let it go. I mentioned that the Game and Fish had recently dumped some jumbo catfish in a local pond, but he had caught catfish before. We began our journey to Jessica's. 
A slow bite. I noticed some large grasshoppers fluttering in the nearby shrubs. Beau wasn't having any luck with his lures, so I thought I might catch a few hoppers and hurl them into the pond to enliven the trout. Chumming is what this is sometimes called. In the fly fishing community, this sort of thing is frowned upon. Using a trout net, I caught several hoppers and tossed them in. Trout immediately came to the surface and gulped the thrashing insects. We decided to use the casting bubble and attached a wriggling hopper. This is the same method Hemingway describes in "Big Two-Hearted River." But Beau couldn't keep the hoppers on his hook. My job became catching more and more hoppers to meet the rising demand. I set out, my fishing shirt stained with mustard and charcoal, to get a few more bugs. Just as I was sneaking up on a king daddy hopper, a fellow I recognized from the local fly fishing club came driving up in his new truck. "Dave?" he said. I pretended not to hear him. I strolled back to the pond with my hands in my pockets.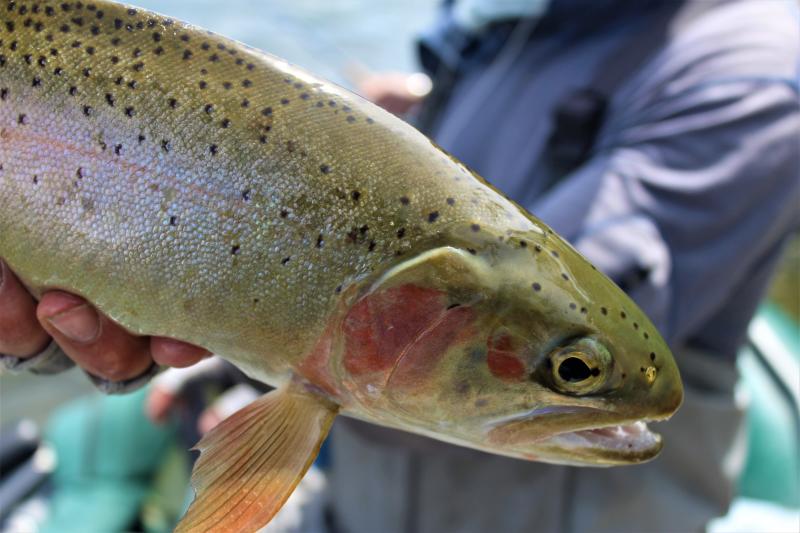 I needed to clean up my act. My fishing shirt—soiled with putters of mustard and grasshopper juice—needed a serious refresh. This is the time of year when the weather might change at any moment, when the bright blue days yield to cool nights.  It's a good time to embrace change, a good time to switch direction.
Casper Dry Cleaners has been my go-to spot for hitting the reset button. Located in a unique building that is over one-hundred years, the business is one of the few I can think of that has stood the test of time. The little shop straddles past, and places one foot in the future. At the counter you can see old black and white photos of 5th Street and Center from a bygone era. Ford Model Ts are parked diagonally. Down the block you can see a shoe repair shop and a public market. There is sign that states "ICE".  In the photo you can see that there was once a gas station on the corner. Today that spot is home to a boutique tattoo parlor. 
Kay Burwell and her husband took over the space in 1972. Kay describes a Casper that no longer exists, when the banks, car dealerships and sheriff's office hired Casper Dry Cleaners to alter and clean all of their uniforms. Today, Kay and her daughter Cheryl run the business and employ four others. They have witnessed many changes to the block over the decades. Kay says there was a bicycle shop in the building, an ice cream parlor and a bakery. These enterprises have come and gone. Only the dry cleaning business remains. 
The week I moved to Casper I recognized this building as something unique. Its angular shape and unique location made it stand out in a city that is always evolving. The art deco sign outside made me want to affiliate with the business. Who and what you affiliate with seems to be important these days. But I had never been able to see behind the counter. This week Cheryl gave me a tour of the deep grottoes of the building. The machinery—the spot remover, the enormous laundry machines, the pressing stations—all looked like ancient relics from another time.  Cheryl showed me the space where the ice cream parlor once thrived. Above, there were stained glass ceilings, cracked here and there by the Wyoming wind. There was a wedding dress hanging in an area where Cheryl works to box and preserve them. She told me about a woman who had recently had her mother's wedding dress restored so she could wear it. 
"But she wanted to take pictures of herself in it while wading in a stream," said Cheryl. "I told her absolutely not. Don't do that."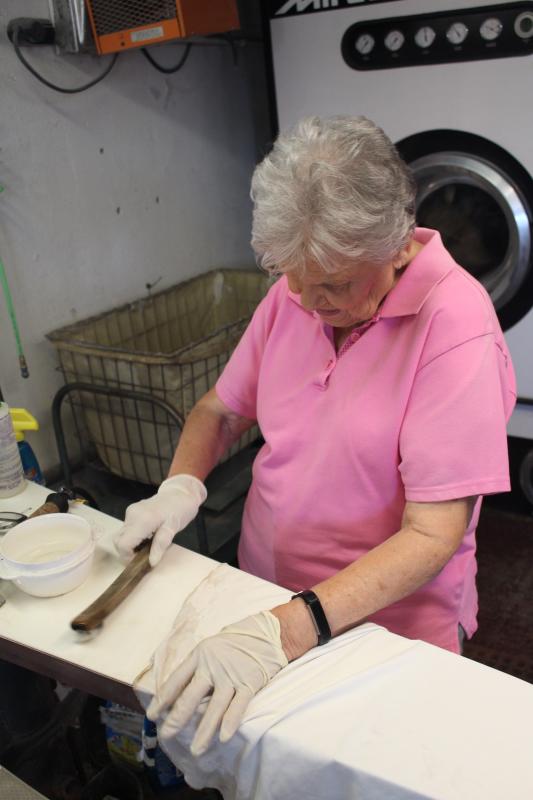 Back in the front of the store, Kay told me how, when her husband was around, they used to fish in the Big Horns. "We knew the ranchers, and they'd let us fish on their streams—we had a lot of fun back then." Then Kay went back to the spot remover and put on a pair of gloves. She took out a brush and began to work forcefully on a white dress.  The phone rang and Cheryl had to take the call. I paused for a second and admired the simple genius of the American work ethic. It's not gone. We still have it.  Next time Beau is in town I think we'll have to take him to the dry cleaners to show him what dedication looks like. 
 With my shirts cleaned and ready for the new season, I pushed through the door and into the heat.