The other day we received our first correspondence for The Cast. Ernie from Nebraska writes:
I went fly fishing for the first time last year.  My hope is to get to Casper sometime this summer and try fishing in WY.  I would like to know more about places I can go without using a boat.  Don't have one.  Are there places open to public walk-in to fish?  If I go to a boat launch, how far up/down the river can I go and still be on "public" land because as I understand, landowners own the bottom of the river but not the surface.  
There's an old anglers' saying that goes something like this: one fish from the shore is worth ten from a boat. Like Ernie, I don't own a boat. When I came to Casper, I bought a brand new 17-foot Clackacraft. But I made the mistake of purchasing the model with high gunnels. The Wyoming wind struck that boat sideways with its legendary force and I often found myself, and my boat mates, pinned against the far bank. Under these circumstances the oars became useless. I had to get out and drag all of us to safety. Technically, I was trespassing, but no one ticketed me. Most people, even the guides, felt sorry for me. I sold that Clackacraft and never looked back. 
Many people who come to Casper are a bit overwhelmed by the fishing here. They've been told all kinds of things, and many of them have seen pictures online of ten-pound brown trout with faces reminiscent of gators. Like Ernie, they are not sure where to go. They are told they have to have a boat because of the persistent mythology surrounding some outdated laws. Visitors are not sure which flies to use. They are afraid their five weight rods will be snapped by monstrous fish. Essentially, they get punked out before they even wet a line. They spend their vacation at Lou Taubert's picking out Stetsons and ostrich-skin boots. 
When I arrived on the scene I did what any smart angler does; I went into the fly shop and spent some money. First, I asked the shop owner which flies were working. I listened carefully and filled a plastic cup with his suggestions. I bought leaders and split shot I really didn't need. I took an expensive rod from the rack and wiggled it in the air. After all of this, I confessed that I was new here, new to fly fishing. I asked where I should go if I wanted a decent shot at a trout. The shop owner sent me to the dam at Grey Reef. 
While I caught a nice trout my first time out, I was intimidated by the scene. There were fishermen waist-deep in the best runs. I wasn't sure how far downstream I could go. I'm the kind of fisherman who likes to wander. I'm not one of those stoics who can stand for hours in a run making the same drift with Zen-like poise. I didn't know that, had I driven down the road past the Grey Reef parking area, I would have come to The Redds, then Pete's Draw, which in the local parlance is always referred to as "The Outhouse Hole". These are two extraordinary places to wade fish, but I didn't know they existed. Further, I didn't know about the "School Section" downstream of the Alcova Dam. I didn't know about the camping and fishing one can experience closer to town. I learned most of what I know like everyone else: trial and error, mostly error, and by taking people's advice. Don't be afraid to ask people for help. 
Ernie asks about access and I can say that access is improving on our river, not disappearing. Each year, or so it seems, new sections become public and new boat launches are created. Game Wardens stock faraway ponds and lakes with species of trout. I stopped by the Game and Fish on Energy Lane last week and picked up a Bureau of Land Management map, which are also available in the Visit Casper office, that shows the access points and boat ramps from Gray Reef (they spell it with an "A") all the way to Casper. There are 39 river miles with 21 access points where you can fish. Red and blue signs have been posted to help bankside anglers know whether or not they have permission to fish. Red means no. Blue means yes. 
For me, I love to fish with an indicator and two weighted nymphs. Some people decry the use of an indicator, but chances are, they have indicators (several makes and colors) in their gear bags and are only too stubborn or lazy to pull one out. This summer, while you're out along the banks of the North Platte, you will notice that 9 in 10 fly fishermen are using indicators and weighted nymph rigs. 
Probably the best thing you can do is book one of our local guides. These professionals know the river intimately. Better yet, The Ugly Bug Fly Shop and Crazy Rainbow is hosting a women's only fly fishing clinic beginning on July 7th. "Ugly Bugs and Crazy Ladies" a three-day event, led by guides Addie Dees and CiCi Oliver, will give female anglers all of the basics skills they will need to be successful on the river. There will be casting lessons, wine tastings, fly tying and more. The program culminates in a full-day float trip. 
Here's a tip: never look too closely at another fisher-person's flies; don't crowd their fly box. But if you happen to get a glance of what they are using, you'll likely see some rendition of what is referred to as "Spaghetti and Meatballs." The "spaghetti" is either a rock worm or a San Juan worm. The "meatball" is either a glow bug, an egg pattern, or a fat orange scud that imitates an egg pattern. There's nothing esoteric about the "Spaghetti and Meatball" rig fished under an indicator; however, if you've just driven 14 hours from, say, Salina, Kansas, living off gas station coffee and underachieving fast food, you want to be rewarded with a fish for your efforts. For beginners just encountering the North Platte, this simple rig is a place to start. The rock worm is a fly that even I can tie. It's a bit discouraging to stare at a rock worm for long periods of time—there's not much to them. But they work, magically, it seems. I've seined the river, and I can say with a great deal of confidence that, in the summer, it is teeming with aquatic worms and larvae. 
Of course, there are thousands of flies that work on our North Platte. I recall a larvae pattern that my friend Brian Farmer created at his tying bench in Fort Collins. He called it the Green Mile, and for two years in the mid-2000s, I caught eighty percent of my fish on this pattern. The Green Mile became the spaghetti in my set-up. Until, suddenly, and without explanation, the fish stopped taking it. There's the squirrel hair leech that has made careers. The red Copper John in a size 16 is so dear to me that words fail me when I attempt to describe my attachment to this pattern. And I have had a lengthy affair with brassies and other midge patterns that are worth the three bucks per fly charged at the shops. 
Summer is here, finally, and that means the trout are in their post-spawning phase. The water is warming and the insects are beginning to stir. The river is raucous, but clear. I think the summer months are the best time of the year for a visiting angler to book a trip with one of our guides, or to throw caution to the wind and camp at one of our riverine campsites. Or to make a long weekend out of it and do both.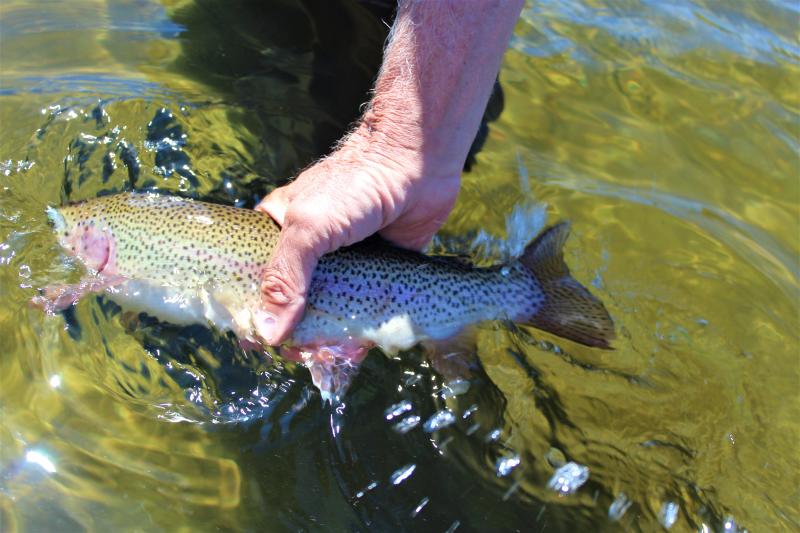 One more thing while I have your attention: the Casper of 2001 no longer exists. While I lament the loss of the low ceiling, seedy gathering places, I welcome the new. Gone are the frowzy pool halls with one television tuned to a weak signal; gone are the eateries where your faux leather chair is catawampus from missing a roller; extinct is the town bully and his penchant for staring at strangers. You don't have to suffer in a wet tent out at the dam. Come back to Casper and have a hot shower. Visit one of our new breweries (three and counting), listen to some local troubadours and eat anything from Thai food to aged steaks. I won this information by persisting here, and I have no one to spend it on, so I'll tell you. 
Here's my perfect day in Casper: Hit the new coffee house, The Bourgeois Pig, for coffee and a homemade cinnamon roll. Grab a to-go lunch from Grant Street Grocery or Sweet Zoey's. (Zoey's baklava makes perfect riverside treats.) After a day of fishing and fighting a handful of eighteen-inch rainbows, drop by The Office for Happy Hour. They have a dizzying array of craft beers on tap, and the money you save on half-price drinks and appetizers can be reinvested into, say, a dozen size 18 Disco Midges. Breeze into the Frontier Brewery and see Chad Lore's unique style of Americana. You're the guy who just figured out how to catch trout on the public stretch at Lusby's; there's no reason you shouldn't reward yourself with a bowl of green chili at Don Juan's, or a wood-fired pizza at Racca's, or, for heaven's sake, a ribeye at FireRock. Back when I was an upstart, and when I flogged the waters at Pete's Draw with nothing more sophisticated than a purple prince nymph, I didn't have your choices. It pains me that today's anglers have it so easy. Lodging choices are abundant and you can have your pick of restaurants. I'm jealous of your situation. But I'm also proud of the strides we've made to become a more inviting fishing town.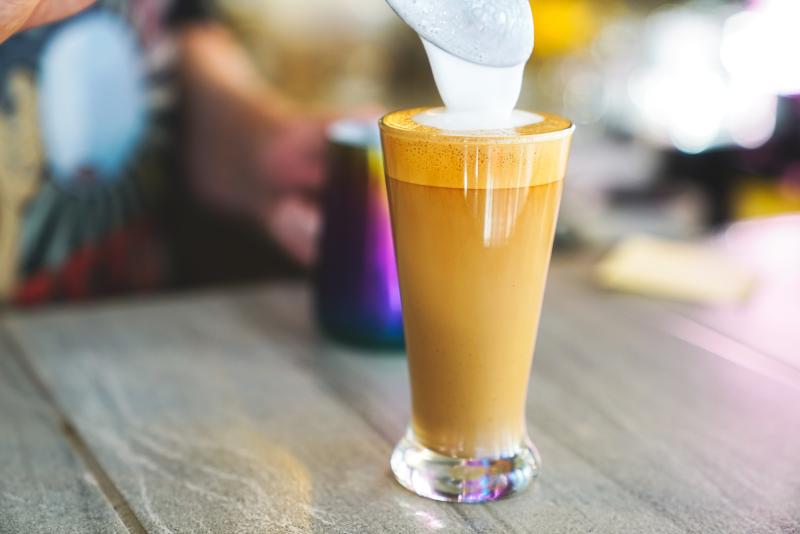 Always remember, when you step into the North Platter River west of Casper, you are stepping into a true blue ribbon fishery. If you put in your time, almost anything is possible. There aren't many rivers like it. You'll realize this as soon as you come tight to one of our wild fish. The trip you've made to get here will suddenly be worth it. The chances you've taken prove that you still have something redeeming within. You've earned your new Stetson. Wear it with pride.