With outdoor recreation and national park visitation at an all-time high this year, along with many businesses throughout the West being short-staffed, you may have noticed that it's not easy to get a lodging reservation inside Yellowstone National Park. And while the lodging properties inside the park are beautiful and well worth a stay, it's still possible to experience Yellowstone without staying in the park.
From Casper, Wyoming, the east entrance to Yellowstone National Park is 267 miles (or just under 4 hours) away. After spending a day or two exploring Casper, get an early start on The Road to Yellowstone and you'll be in the park before lunch. Plus, there are lots of places to stay outside the park that are ideal for spending the night without a long drive. A few to consider: Thermopolis, Cody, Powell, Cooke City, Gardiner and West Yellowstone.
While you're in Yellowstone, here are fun ways to explore the park before heading off to your nightly accommodations.
1. Hop on a Yellow Bus.
One of the best ways to explore Yellowstone National Park is a vintage roll-top yellow bus. Tours leave from Old Faithful, Mammoth Hot Springs and Lake Hotel, with routes that explore geyser basins and see wildlife in their element. Many tours depart in the afternoon or evening, making it easy to take your time as you make your way from Casper to Yellowstone.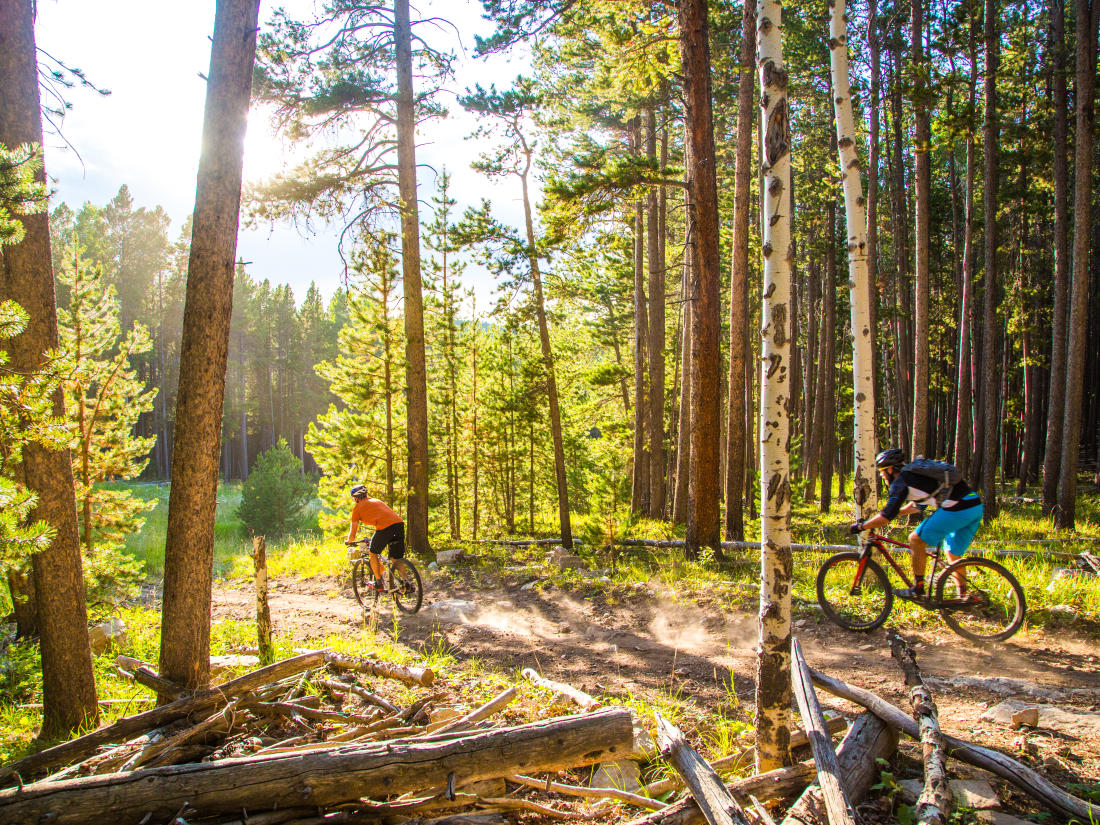 2. Bike Through Geyser Country.
One of the coolest ways to explore the park is on a bike. You can bring your own or rent one from Old Faithful Snow Lodge after you arrive. Rides range from easy to difficult. Want to get in some riding before arriving in the park? Check out mountain bike trails on Casper Mountain or ride the Platte River Trails along the North Platte River in Casper. To see a list of mountain biking trails in Wyoming, check out singletracks.com or Wyoming State Parks.
3.  Pop in and out.
Just because you're visiting Yellowstone National Park, that doesn't mean you have to stay IN the park the entire time. There are abundant gateway communities that are prime for visiting. Plus, you'll be able to see different areas of Wyoming and Montana that way.
Hit Grand Teton National Park and the southern end of Yellowstone, with a stop at Lewis Lake, West Thumb Geyser Basin or Old Faithful. From the east entrance (near Cody), head to Yellowstone Lake and the Upper Falls of the Yellowstone (also known as the Grand Canyon of the Yellowstone) – be sure to take in the view from Artist Point. Spend the night in Cooke City before getting an early wildlife-watching start in Lamar Valley. Or from Gardiner, head into Mammoth Hot Springs and check out the terraces.
For more ideas on how to explore Yellowstone National Park without staying in the park, order our free The Road to Yellowstone planning kit.