These big storms that come in from the north force waterfowl down in droves. The resident geese are suddenly neighbors with their migrating cousins. Down at Morad Park I tossed the training dummy into the current for my dog Henry. It was one of those crisp fall days where the sunlight strikes the willows and you see people sitting on the stone benches watching the river glide by. 
Two fly fishermen were casting their flies in the confused currents. Jarron and Austin had been fishing at the Cardwell Access west of town earlier in the day. Jarron said he landed a twenty-two inch brown and a few rainbows. There was a bubble line where I saw a fish rise earlier. I couldn't help myself. I told him that he should wade out a bit and try that spot. I've never been able to keep my opinions about fishing to myself. 
It's not unusual to see fly fishermen along this stretch these days. As a flock of Canada geese etched across the skyline of cottonwoods, I spotted a drift boat coming around the bend. The angler in the bow had his rod doubled. He fought a fish to the boat, but lost it before the guide could dip the net underneath the thrashing trout. I saw the man at the oars pull hard for the boat ramp at Morad. They anchored and I walked over to talk to them.
Guides from Wyoming Anglers, the three had put in at Robertson Road. They had landed about five fish each in an hour and a half. This was their day off. They had a young yellow Lab with them. They threw sticks for her as one of them went for the boat trailer.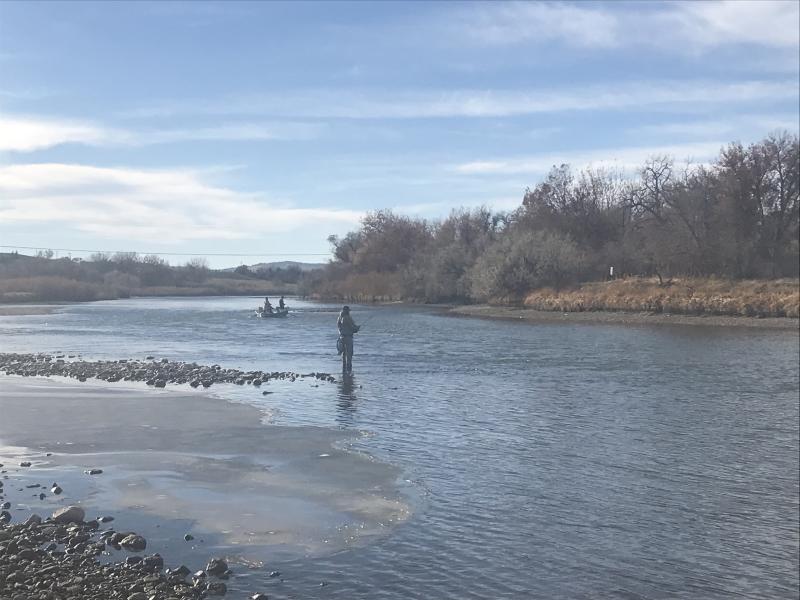 In November I frequently find myself estranged from the river, from fly fishing in general. I spend the bulk of October driving across the state looking for elk. I sleep in the bed of my truck in a sleeping bag, or I rent rooms in the tiny towns where I can use my general tag and have a halfway decent shot at an elk. Some of these motels harken back to a time when family-owned hospitality was still possible. Often there is a liquor store and a bar attached. Or a restaurant where the same guy who checked you in mans the two tap handles that spew frothy beer. The televisions are often shut off. The owner says he doesn't pay for DirectTV in the wintertime. And there's a persistent drip in the shower. The owners of these hotels know elk hunters, and know that, generally, we want to be left alone. We will be gone by 5:30 in the morning, and they won't see us again until next year. 
Hunting elk pulls me away from trout fishing. It's a clean break. I don't carry my fly rod along on hunting trips as I've found that the two forces—elk hunting and trout fishing—are countervailing in nature. You can't do both well, and what happens when you try to combine them is never productive, nor is it artful. 
There was a cold spell, followed by a warm Chinook wind that thawed the icy creeks. One night I sat by a fire near a complex of beaver ponds. There were fresh tracks all over the slopes, but no elk. I sat up to listen for bugles, but heard none. When I went to douse my fire with creek water, I spotted five chunky rainbows in the creek. They darted out of the beam of my headlamp. They tucked up under deadfall and cut banks. I had fetched water from this creek for days, but never saw a single fish. Nearing midnight, they showed themselves, silvery in the glare. I marked the spot, and thought that maybe next time I'd pack a rod, or come back in the spring.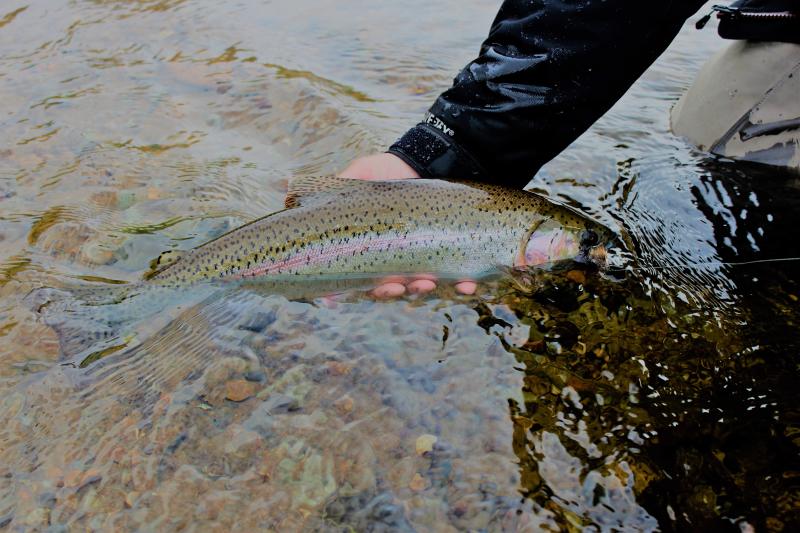 "Did you get your elk?" often passes for a greeting in Casper, in November, where a large contingent of citizens drive around with a blaze orange cap on the dashboard of their trucks. It's culture. It's practical. It's what draws people to Wyoming and doesn't let them go.
But I miss the river. The water levels are back to winter flows, and there are stories that the big brown trout are stirring. 
To reacquaint myself, I drove west of town with a box of new streamers. I wanted to use a sinking line and see if I could catch one large fall fish. The day was breezy, but warm. I waded out and began to make a quartering cast, forty-five degrees downstream. When you are using streamers you let your first few casts "swing", which means you allow the current to swim your fly. The fly rises in the water column as the line gets tight on the end of your swing. In theory, this method induces violent strikes. A guide once told me to let my mind go blank and think of other things while streamer fishing. I did this for a while, then I relocated. I stood on the downstream side of islands and covered the longest, deepest runs with a streamer called a Zoo Cougar. Nothing. Geese. The high whistling wings of ducks going south.
The fish turned on the streamer at the end of the swing. I was day dreaming, thinking about the elk I had seen a week earlier. There were twenty cows on a snowy slope, and even at 800 yards away, they knew I was there. The violent grab of a large fish, a fish I would never fully see, jerked me awake. The rod doubled, pumped twice, and went slack. The ten pound tippet parted and the water boiled where the trout had rolled. I saw the fish break the surface and roll again.
Back on the road, my hands still trembling, I thought about that terrible grab and what kind of fish could do that. The river was darkening as I drove over Government Bridge. I thought about my Zoo Cougar firmly in the jaw of a fish that would haunt me for days.