"This is what we get for catching all of those easy fish in May," I said to Brent as the gale force winds strafed us. We were crawling over snow-covered boulders in Fremont Canyon trying to reach a pool that looked fishy.  It was midday, but the canyon was shrouded in shadow. The sunlight couldn't penetrate those steep walls.
"I know what you mean," said Brent. The wind roared into the mouth of the canyon and doubled its ferocity.  The gust nearly toppled us. He laughed. Unbelievably he was not wearing gloves. I was dressed as if I was about to board the gondola at Steamboat: gloves, a wool hat, several base layers, and a neck warmer. It was, perhaps, the worst day of the year to go fly fishing. The thought crossed my mind that I should have stayed in town and played racquetball.
Brent had a reason to push for the next pool. His streak was on the line. For twenty-three years, Brent has caught at least one trout per month on a fly rod. I don't know of anyone else who has done the same, but fly fishermen are a quirky bunch, and I bet there are others out there.
"I hate to be dorky about this, but here are the rules. The fish has to be in the Salmonidae family. I have to catch it on a fly. And I have to have it under control or in the net to count it as a real catch," he explained. He added that brook trout and whitefish count. Bass and bluegill do not.
I have known about Brent's streak for years. It's been in our local paper, whispered about on campus where I work, as in… isn't he that dude who catches a fish every month for over two decades?  Brent's streak is, on one hand, the stuff of legends, and on the other, an obsession that no one in their right mind would voluntarily pursue. When I first heard about it, I created a fictional character, Dr. Alan Housman, and published a short story in Gray's Sporting Journal called "Trout of the Month Club."  In the fly fishing world there are many of these self-imposed streaks and rituals. But, as far as I know, only Brent has kept his going for over twenty years and counting. On this winter day, if he were to catch a trout, he would make it a round twenty-three years. I brought my fly rod along, but truthfully I was only there to see if Brent could catch a fish. As soon as he did, I was going to campaign for a quick retreat to Racca's Pizzeria, or that new steakhouse on Center Street.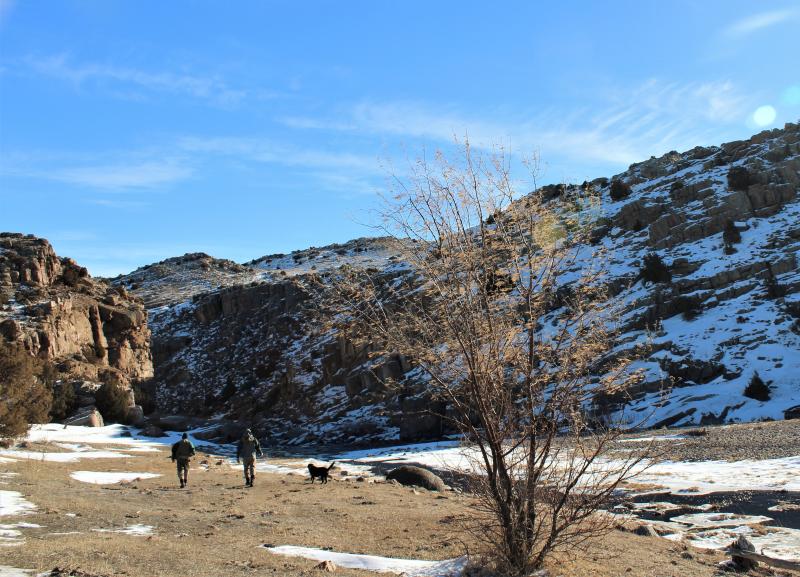 We decided to try first the Cardwell Access, and naturally, we were drawn to the deep plunge pools at the entrance of the canyon where we catch so many trout in the spring. There were mergansers overhead, a solitary water ouzel dipping in the back eddies. My dog, Henderson, crawled over the icy rocks with great difficulty. He whined and seemed out of his element, refusing to go forward in such conditions. Brent casted his rig around shelf-ice and boulders rimmed with frozen crystals. He made excellent drifts against the sheer wall faces, the deepest holes that surely hold trout, especially in winter. He got no takes. I began to wonder if this story would ever pan out; it sounded so good when I proposed it to my editors.
There was another journalist with us. Kate O'Hara carried her camera and a notebook. Her waders were leaking and she was learning the hard truths about investigative writing. She curled up in the windbreak of a large boulder and snapped photos of Brent as he changed flies. Henderson crawled into her lap. After an hour of dipping his hands in the water and changing flies, he still had not retrieved his gloves.
"Maybe we should try the dam," he said, cheerfully. I asked him, in my most sarcastic tone, if he was enjoying himself. "I'm having a blast," he said. Perhaps he's lost it, I thought to myself as was hiked out of the snowy canyon. I couldn't understand his pursuit of the streak, a seemingly arbitrary contest he invented for himself. How did you come up with this? I asked. He told me that he used to keep a very detailed fly fishing journal. This is when he lived in Western Nebraska and fished the little mountain streams of the Black Hills. One day, going over his notes, he realized that he had caught at least one trout per month for over two years. This was the birth of the streak that brought us out on such a tough day.
The nice thing about fishing in Natrona County is that, even in the dead of winter, you have options. There is open water year-round. There are trout to be had. Over the years, Brent has resorted to all kinds of alternative plans to keep his streak alive. A lifelong professor of political science, Brent has taught all over the world. And yet he always organizes his travel so that he returns to the rivers and lakes in time to catch his monthly trout.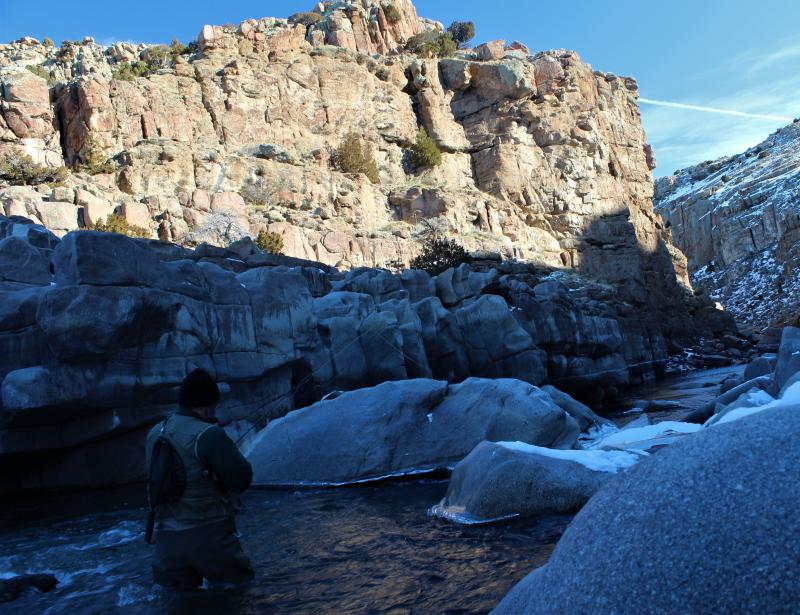 "If I catch a trout on, say, June 3rd, I have all the way to the end of July to catch the next one," he said. I had the heater blasting as we drove the winding, snow-packed roads back towards Grey Reef Dam.
"What does your wife think about all of this?" I said
"She's supportive," he said. He explained how his daughters go on father/daughter fly fishing trips with him, backpack into alpine lakes in search of his July fish.  Both of his daughters have achieved the Cutthroat Slam.
At Grey Reef, Brent hooked a nice rainbow. I whooped and celebrated. I was ready to get back to town.  Kate moved in with the camera and began to document the fish that would make it a solid twenty-three-year streak. But it was not to be. Just as Brent was getting the fish on the reel and reaching for his net, the hook came free.
"Dang it," he said. "I shouldn't have tried to get that fish on the reel. I should have just landed it."
We were running out of daylight. The winds were picking up, not dying down. Waterfowl were moving from the frozen river to the shelf ice where they roost at night. I had mentioned earlier that I had recently been to Jessica's Pond and the inlet was lousy with trout and grayling. (Grayling count, by the way.) We decided that, if we left immediately and drove quickly, we could get to Jessica's Pond before it was too dark to fish.
Two teenagers were flogging the far end of Jessica's Pond. They were releasing a fish as Brent marched the gravel walkway towards a likely spot. The great numbers of fish I had reported were not present. I wondered aloud where they had gone.
"I've seen people haul stringers of fish out of here. Most of them probably got taken out by worm fishermen," said Brent. A few trout rolled on the surface. He tied on a nondescript gray midge, the most featureless fly in his box. He shortened his leader and slid his foam indicator down towards his fly. He kneeled to lessen his shadow on the water. And then he got to work. The twenty-three-year streak was safe when Brent hooked a beautiful rainbow and brought it to hand as the sunlight was dissolving and the sage landscape was beginning to soften. Brent was happy. He had been happy all day long.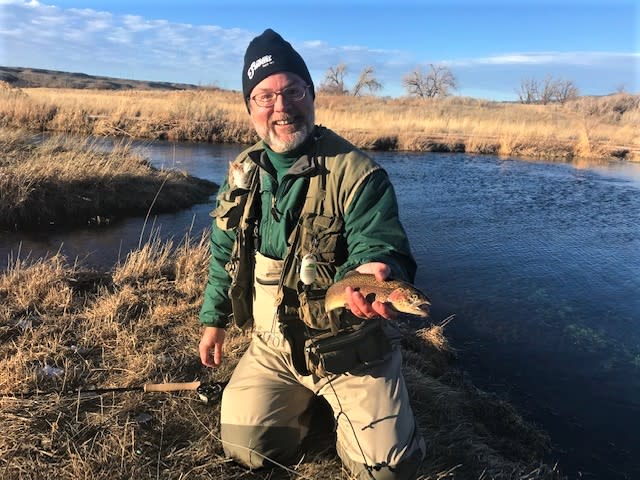 The streak, he told me as we drove back to town, was a way for him to keep engaged with fly fishing, a way to force himself out into tough days like these. He no longer ties flies. He doesn't keep a journal anymore. He refuses to take up golf. The streak is what he keeps.
"Days like these are what I remember," he said, "not days when I sit all day at the computer working. This streak is something I made up. But it's real to me."