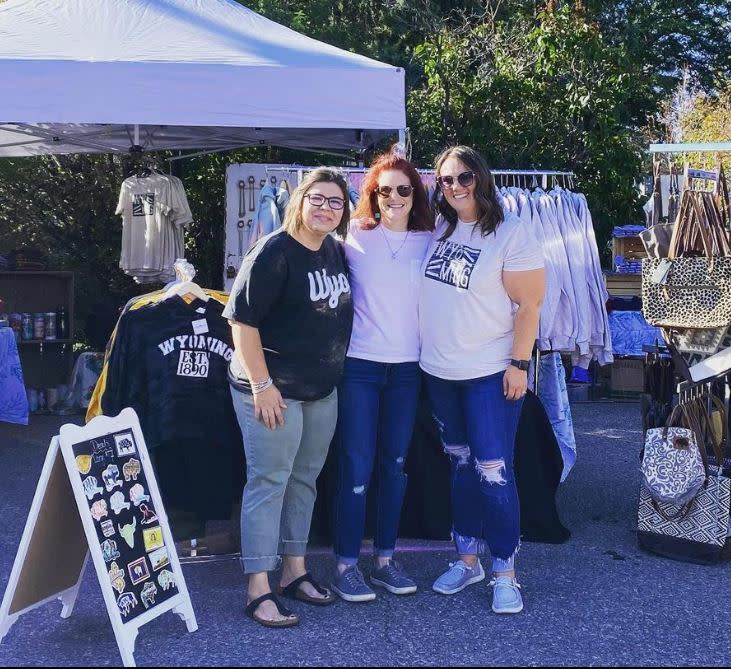 Spring in the 5150' is short lived, yet undeniably magical. Endless storms give life to western landscapes, wildflowers bloom and locals come alive to make the most of the Wyoming sunshine.
There is so much to look forward to when it comes to spring in the 5150'. However, this year there's no denying that the spring Funky Junk on Saturday, May 21st is at the top of our list! You see, every September and May, 6th & Durbin shuts down for an epic artisan market featuring local makers and creators, food trucks, libations, live music and more. From the spirit of the festival to the well deserved cult following, we're counting down the days to take 5150' to the streets - Funky Junk style.
To celebrate and revel around the lovely 5150' locals that make up the artisan market, we're introducing you to the Faces of Funky Junk. Read on to learn their stories, support the mission and prep for the best Funky Junk yet this month. 

Whitney Asay | Funky Junk District
owner of the district
Meet the woman behind it all - Whitney Asay. Whitney is a female entrepreneur, a serial creative, a Casper native, a wife, a dreamer and just about the most contagious soul you will meet around town. In 2014, she established Funky Junk District in hopes to carve a space for local creatives to share their work. Fast forward eight years and she has redefined the artisan market scene in Central Wyoming. From her bright personality and warm character to her go-getter attitude, Whitney is one Wyoming woman to watch. 
How did Funky Junk come to be? What inspired the concept to be what it is today?
"The idea of Funky Junk came to be after I was a part of an occasional sale called Serendipity, opening my store, Petuniaz, and being inspired by local artisan markets such as Nic Fest here in Casper. I knew and believed in so many creative people and wanted to find a way to showcase them like never before. When I moved into our current location at 615 S Durbin, I knew my vision would come to life in ways that I could have never imagined. I was right. It's been exactly that and so. much. more."
How has the Casper community held a space for you and Funky Junk?
"Our city is so special to me as I was born and raised here. There has been so much support from the community over the years, and it only continues to grow. Locals come out and support the arts here. Casper simply loves to have a good time, and when we get to enjoy good people, music and libations in one place, people show up in beautiful ways."
What has been the most rewarding aspect of being the visionary behind Funky Junk?
"The most rewarding part of Funky Junk for me is to see the growth of my vendors. Some have gone on to open their own brick-and-mortar shops or have even created their own events that are amazing! Hearing a vendor say that this is their favorite or best event ever just makes my heart happy!"
What can we expect from the Funky Junk Festival this fall?
"This spring event is sure to be one to remember. It is my favorite time of year and always the perfect kick-off to another wonderful summer. We sold out of spaces with 65 vendors, 5 food trucks and have a great lineup of music for the day. Looking forward to spending another great day with everyone."

Ceci Foltz | June & Jane 
ethical + vintage clothing boutique
Vintage fashion meets heart and intention in June & Jane. Meet Ceci Foltz - the girl boss behind the brand. Established in 2019, Ceci launched June & Jane to not only share her love of vintage pieces and eco-friendly finds, but to empower women to feel confident in who they are and what they wear. Fast forward to now, Ceci has graced the local community with her unique collection packed with a badass mission of self-love to follow. This spring you can find June & Jane blooming out of Ceci's restored, vintage van, Sara Lou. From everyday feminine fits to accessories that carry a legacy, we promise you'll feel hella' good taking home a June & Jane purchase this season.

Laura Hunter | Pure Impressions Design  
handmade jewelry
Handcrafted jewelry with a touch of magic. Laura launched Pure Impressions Design to adorn women in one-of-a-kind pieces that felt true to them and everything they show up for day after day. From designs inspired by western lifestyle and landscapes to custom pieces to cherish forever, Laura has a way of pouring soul into everything she touches, and we're here for it. Seek out Pure Impressions' corner of the market for spellbound gifts, the sweetest subscription boxes and her newest collection "Grit & Grace" in collaboration with Prairie Wife in Heels.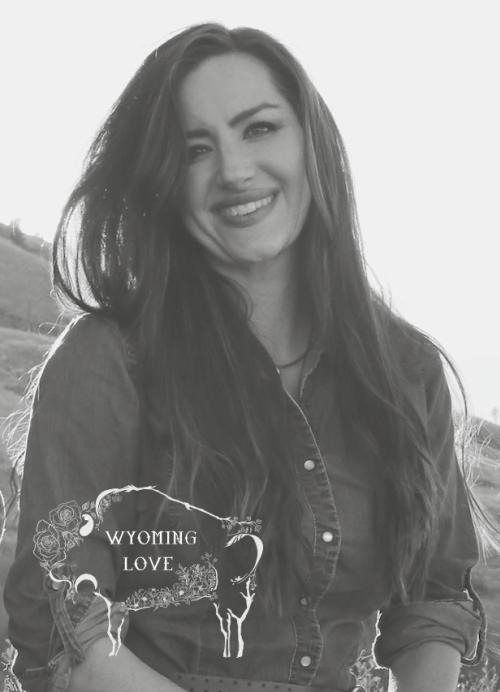 Jamie Marvel | Wyoming Love 
hand-illustrated prints, apparel + home goods
Find a woman more in love with the Wyoming way - we dare you! Four years ago, Jamie was called to blog about faith, family and the simple moments in between. Little did she know that her journey would lead her to this. From hand-illustrated apparel and accessories to art inspired by the vast outdoors, Wyoming Love has simply captured the heart of the West. Be sure to revel in this local woman's Funky Junk booth on the 21st.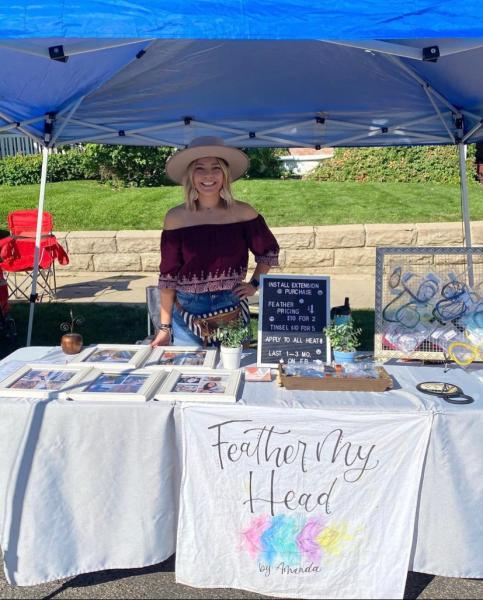 Amanda Sewell | Feather My Head 
feathers and tinsel extensions
It's high time to get feathered. If you haven't met Amanda of Feather My Head yet, allow us to introduce you to one of the 5150's brightest souls. In 2016 Amanda started her hair extensions brand to bring unique style and captivating confidence to Casper. Fast forward seven years and hundreds of happy hearts, and she has set a fashion trend all her own. Meet her on the streets of Funky Junk, choose your colors and turn heads throughout the rest of the festival and beyond.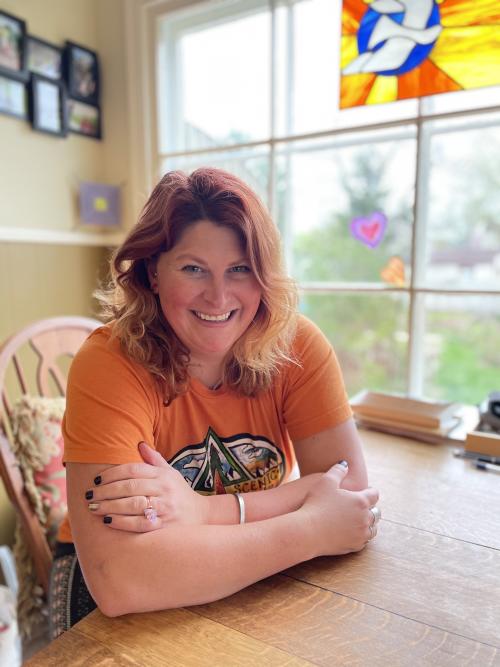 Bri Martin | Brilliantly Bri Art 
colorful art + inspiration for the creative soul
Word junkies, color connoisseurs and all-around happy humans - allow us to introduce you to your soul's belonging, Brilliantly Bri Art. Bri Martin, artist and owner, is recognized locally for her contagious canvases and uplifting messages. From her bright smile and unique perspective to loyal, cult following, she is one Wyoming artist to hold onto closely. Soak in her inspirational art and goods at Funky Junk this spring, and we promise you will leave a little brighter. 

Alicia Crispell | The Vanishing Breed 
women's clothing boutique
A boutique to set your wild heart aflutter. Meet Alicia of The Vanishing Breed. Through capturing Wyoming's raw beauty behind a camera lens, Alicia was inspired to bring authentic confidence and a unique style to the women in her photos - compelling them to be unapologetically themselves. The Vanishing Breed has become just that and more. A little Bohemian with a whole lot of class, The Vanishing Breed collection will surely make you sparkle all your own. Show Alicia some love at The District and come to life in one of her captivating pieces to wear all summer long.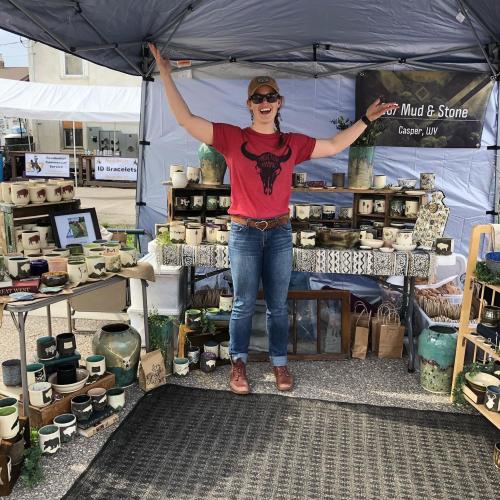 Jessica Snell | 307 Mud & Stone
handmade pottery
Name a sweeter local potter in Wyoming than Jessica... we'll wait. Jessica of 307 Mud & Stone is a teacher by day and a creative, small business owner at night (or all summer long). After taking a pottery class in college, she not only fell in love with the art form, but felt called to take to the kiln. Fast forward to now and her hard work and magnetic personality has quickly turned her into one of Casper's most sought-after artist. From mugs and bowls to fun kitchenware and more, if you haven't dressed up your space with one of her pieces then just wait until you meet her on the corner of 6th and Durbin St. this spring.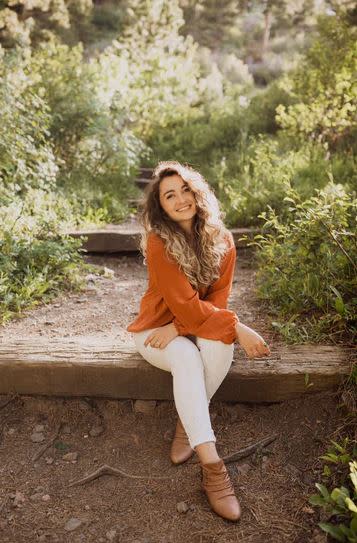 Neisha Yarger | Burgundy Blooms
custom watercolor, calligraphy, apparel + more
Neisha, owner and artist behind Burgundy Blooms, is the epitome of art in motion. In 2016, she started sharing her ink designs on Instagram as a hobby which eventually pushed her to calligraphy, watercolor and adopting a muse behind her brand all her own. As a Casper local, Funky Junk is elated to have her at the market this spring. Neisha will be selling unique art prints, block carvings, apparel, accessories and truly anything a creative soul can bloom into.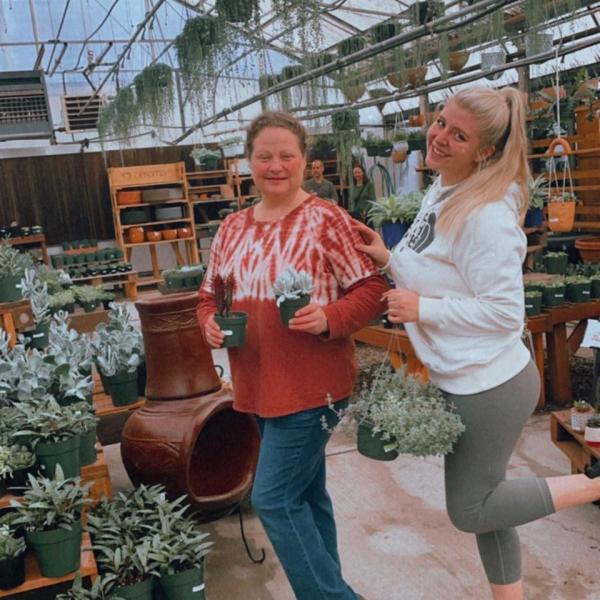 Saybin & Heather | Corra's Crafty Creations
custom watercolor, calligraphy, apparel + more
There's mother and daughter duos... AND THEN there is Saybin and Heather, owners of Corra's Crafty Creations. Not only are these two just about as sweet as they come, they have successfully given the 5150' the greenest of thumbs. From artistic concrete planters and plant hangers to happy succulents, you can't skip this one, locals. 
There you have it - the faces and hearts of Funky Junk. Save the date, write out your shopping lists and meet us at 6th and Durbin Saturday, May 21st from 10:00am - 5:00pm. In the meantime, follow along with each creative on social media and don't forget to stay close with us over @5150local on Facebook, Instagram and TikTok too. We will be counting down to Funky Junk and sharing behind the scenes from the festival day of!