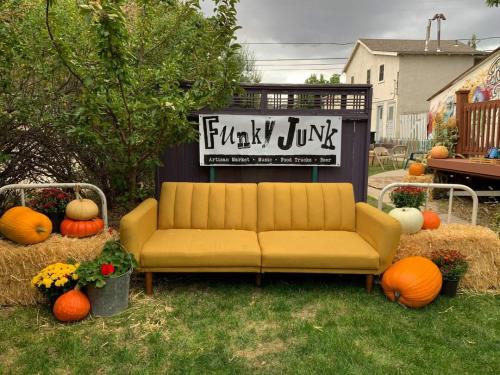 Fall in the 5150' is short lived, yet undeniably magical. Endless nights turn into brisk, fall evenings, autumn colors trickle their way through our western landscapes and our community turns back into ourselves after a busy summer season. 
There is so much to look forward to when it comes to fall in the 5150'. However, this year there's no denying that the fall Funky Junk on Saturday, September 18th is at the top of our list! Every September, 6th & Durbin shuts down for an epic artisan market featuring local makers and creators, food trucks, libations, live music and more. From the spirit of the festival to the cult following, we're counting down the days to take 5150' to the streets - Funky Junk style.
To celebrate and revel around the lovely 5150' locals that make up the artisan market, we're introducing you to the Faces of Funky Junk. Read on to learn their stories, support the mission and prep for the best Funky Junk yet this month. 

Whitney Asay | Funky Junk District
Meet the woman behind it all - Whitney Asay. Whitney is a female entrepreneur, a serial creative, a Casper native, a wife, a dreamer and just about the most contagious soul you will meet around town. In 2014, she established Funky Junk District in hopes to carve a space for local creatives to share their work. Fast forward seven years and she has redefined the artisan market scene in Central Wyoming. From her bright personality and warm character to her go-getter attitude, Whitney is one Wyoming woman to watch. 
How did Funky Junk come to be? What inspired the concept to be what it is today?
"The idea of Funky Junk came to be after I was a part of an occasional sale called Serendipity, opening my store, Petuniaz, and being inspired by local artisan markets such as Nicfest here in Casper. I knew and believed in so many creative people and wanted to find a way to showcase them like never before. When I moved into our current location at 615 S Durbin, I knew my vision would come to life in ways that I could have never imagined. I was right. It's been exactly that and so. much. more."
How has the Casper community held a space for you and Funky Junk?
"Our city is so special to me as I was born and raised here. There has been so much support from the community over the years, and it only continues to grow. Locals come out and support the arts here. Casper simply loves to have a good time, and when we get to enjoy good people, music and libations in one place, people show up in beautiful ways."
What has been the most rewarding aspect of being the visionary behind Funky Junk?
"The most rewarding part of Funky Junk for me is to see the growth of my vendors. Some have gone on to open their own brick-and-mortar shops or have even created their own events that are amazing! Hearing a vendor say that this is their favorite or best event ever just makes my heart happy!"
What can we expect from the Funky Junk Festival this fall?
"This fall's event is sure to be a great one. It is my favorite time of year and always the perfect send off of another wonderful summer. We sold out of spaces with 65 vendors, 5 food trucks and have a great lineup of music for the day. Looking forward to spending another great day with everyone."

Ceci Foltz | June & Jane 
Vintage fashion meets heart and intention in June & Jane. Meet Ceci Foltz the girl boss behind the brand. Established in 2019, Ceci launched June & Jane to not only share her love of vintage pieces and eco-friendly finds, but to empower women to be wildly, beautifully and uniquely themselves. Fast forward to now, Ceci has graced the local community with her unique pieces packed with a story and a badass mission to follow. 
What inspired you to start your business?
"It's quite simple. Initially I started June & Jane because I loved clothes. I enjoyed shopping, and was good at it! Yet, the brand quickly shifted towards supplying ethically made clothing and accessories. Fast fashion became a reality of mine once I was in the driver's seat. It's extremely detrimental to the planet and people, and I didn't want to contribute to that. It's with that same passion that June & Jane evolved into a vintage shop with a focus on ethically sourced pieces and secondhand treasures. The truth is, you just can't match the uniqueness and quality of vintage. I feel honored by the opportunity to make women feel beautiful and confident in a piece that carries a story from a long line of bold women."
What has been the most rewarding aspect of creating and sharing your work in Casper?
"Knowing that other entrepreneurs are willing to share and revel in my business - especially women. It seems as though women in Wyoming are starting to come together and root for each other. And that's pretty amazing. We will all have a greater impact, collectively and individually, when we do so."
How do you hope to see your business evolve in the next five years?
"I have been fortunate enough to have steady growth and can only hope it continues. I'm currently renovating a vintage trailer to take my shop on the road. I love the idea of bringing June & Jane to women in Wyoming and beyond - to offer them a welcoming space to shop and create a community of wellness, awareness and self love."
What can we look forward to seeing from you at Funky Junk this fall?
"SO many stunning vintage pieces to get you ready for fall and winter. Come and shop sweaters, cardigans, pants, dresses for layering, jewelry and even some vintage home goods. P.S. our new trailer may also be making it's debut. See you there!"
Laura Hunter | Pure Impressions Design  
Handcrafted jewelry with a touch of magic. Laura launched Pure Impressions Design to adorn women in one-of-a-kind pieces that felt true to them and everything they show up for day after day. From designs inspired by western landscapes to custom pieces to cherish forever, Laura has a way of pouring soul and feel good energy into everything she touches, and we're here for it. 
What inspired you to start your business?
"Pure Impressions Design started as a happy little accident. Initially, I was looking to earn a little bit of extra money. When I told my husband I wanted to start selling my jewelry his response was, 'Just don't spend too much money doing it.' A few years in, my part time gig got so busy that I was forced to make a choice... Do I keep pursuing this passion that gives me so much joy, but contains a lot of unknowns OR do I stay safe in my job of 11 years. I chose the unknown. I chose Pure Impressions. Or, come to think of it, maybe it chose me."
What does it mean to you to be a local vendor at Funky Junk?
"Whitney and I crossed paths at the Wyoming Eclipse Festival back in 2018. It was shortly after that she asked us to join the Funky Junk family. We've felt at home ever since. The Funky Junk events have the best vibe. If you haven't been yet, trust us you'll feel it. There's something about the vendors and the people... they just care about one another."
How do you hope to see your business evolve in the next five years?
"I'm most looking forward to having a larger, local presence. I've found that our most rewarding partnerships are with other local companies. We recently partnered with Surf Wyoming which has been so fun. Better yet, we just launched a subscription box! It's been a dream of mine for a long while and it's been such a blessing to see it come to fruition. Each box is packaged and sent with love and includes a unique piece of jewelry and other goodies to fall in love with. Whether we're sharing our creations at Funky Junk or by delivery to your doorstep, we're always looking to grow, evolve and bring a little light to our community."
What can we look forward to seeing from you at Funky Junk this fall?
"We actually have all of our products inside Funky Junk now! So while we'll still be a big part of the event this fall, we won't have a separate booth. You'll be able to find our products right inside. Come say hello!"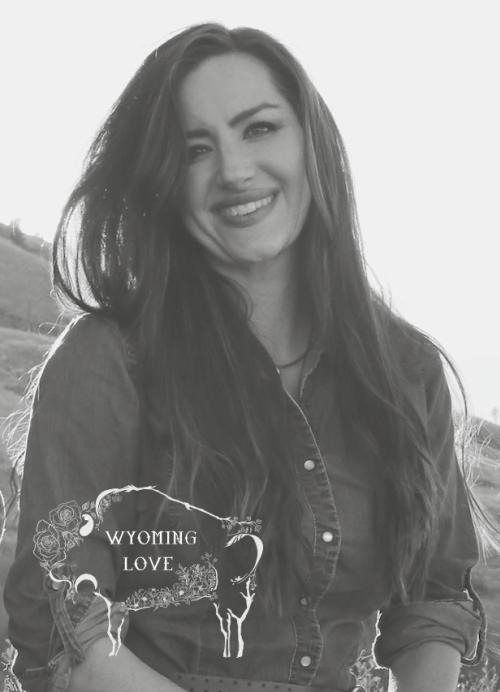 Jamie Marvel | Wyoming Love 
Find a woman more in love with the Wyoming way - we dare you! Four years ago, Jamie was called to blog about faith, family and the simple moments in between. Little did she know that her journey would lead her to this. From lovely illustrations to must-have fits and accessories, Wyoming Love has simply captured the heart of the West. 
What inspired you to start your business?
"Growing up in Wyoming is something I've always cherished. The beautiful land, my love for the outdoors, and the western way of life is a huge inspiration to me and my art. Being home with my children, I started a Wyoming inspired blog as a creative outlet in 2017. At the time, I drew a floral adorned bison as a logo. Little did I know the logo would grow into an apparel business. Wyoming Love is something that started as a creative outlet just for fun. However, it has turned into a thriving business that I absolutely love waking up to. I love how God can change our path and organically grow something we couldn't have ever dreamt up in our wildest dreams."
How has Casper held a space for you within the community?
"The people of Casper are incredible. Without the support of the community, my business would not be where it is today. I started with one logo design, and a small batch of tees that grew into a business that helps support my family. Local businesses such as The Mustard Seed and Hat Six Travel were one of the first businesses in town to carry my apparel. I love that the community of Casper is such a big part of my story. I'm so grateful for each and every customer."
What does it mean to you to be a local vendor at Funky Junk?
"Being a vendor at Funky Junk is really being a part of a family. We all support one another, and I think that can be seen and felt. Whitney has cultivated a welcoming atmosphere that draws people back year after year for good reason."
How do you hope to see your business evolve in the next five years?
"I hope to continue to foster relationships with artisans and makers. I have so many ideas for Wyoming Love. I'm taking one step at a time. But, I'm excited to see where it takes me. I have no doubt it will be an adventure to remember. Happy hearted to have you all be a part of it!"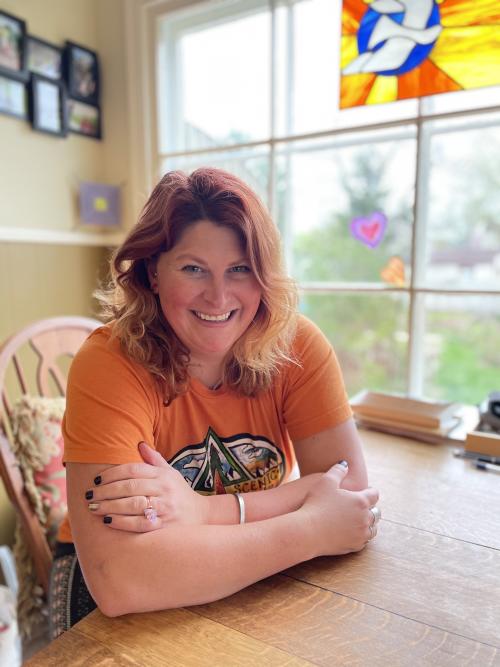 Bri Martin | Brilliantly Bri Art 
Word junkies, color connoisseurs and all around happy humans - allow us to introduce you to your soul's belonging, Brilliantly Bri Art. Bri Martin, artist and owner, is recognized locally for her contagious canvases and uplifting messages. From her bright smile and unique perspective to loyal following, she is one Wyoming artist to hold onto closely. Soak in her art for a little while, and we promise you will leave a little brighter. 
What inspired you to start your business?
"Art has always been something that soothes my soul and helps me to process. I have a Bachelors degree in art, yet have imagined, drawn and painted ever since I can remember. What I love the most is creating inspirational and motivational pieces to lift others. It's so rewarding to gift people beautiful notes that they enjoy sourcing their life from."
How has Casper held a space for you within the community?
"Not only has my art been celebrated locally, but I have been blessed with the best collaborations and opportunities. My art is currently on display at the east side Metro Coffee Company, and I recently joined the artist collective that is Funky Junk District. I can't wait to follow my business and see where it takes me."
What has been the most rewarding aspect of creating and sharing your work in Casper?
"The most rewarding aspect of creating and sharing my art in Casper is the amount of people that I've connected with through my work. A few years ago, I had overwhelmingly too much art on my walls (which makes me paint less), so I posted "Free Paintings" in the Casper Classifieds. That day I gave away seven paintings. In return I received a hand-knitted hat, a homemade cake and a wonderful friend. All of which I still have to this day. In the most beautiful way, this community has connected me with hearts that are so similar to mine."
What can we look forward to seeing from you at Funky Junk this fall?
"I just created a new Casper, Wyoming design that will be featured on stickers, t-shirts and coffee mugs. Of course, I'm also working on some new paintings and have a few surprises for you Funky Junk goers!"

Alicia Crispell | The Vanishing Breed 
A boutique to set your wild heart aflutter. Meet Alicia of The Vanishing Breed. Through capturing Wyoming's raw beauty behind a camera lens, Alicia was inspired to bring authentic confidence and a unique style to the women in her photos - compelling them to be unapologetically themselves. The Vanishing Breed has become just that and more. 
What inspired you to start your business?
"I am passionate about styling and creating, whether it's behind a camera or through fashion. When it comes to clothing there's just something about the richness of textures, the quality of fabrics and the personality of pieces that bring me, and any woman, to life. As a photographer (my first love), my clients would often ask me for guidance when it came to wardrobe styling for their shoot. I enjoyed that aspect of the relationship and creative process so much that one day I decided to make it into a boutique of my own."
What has been the most rewarding aspect of creating and sharing your work in Casper?
"I love watching someone's eyes sparkle when they put on one of my pieces for the first time. The boost of confidence that washes over them - it makes my heart so happy. It is so rewarding to be a part of the experience of making someone feel beautiful. I believe it is one small way that I can have a greater impact. Women empowerment!"
What does it mean to you to be a local vendor at Funky Junk?
"I am honored that The Vanishing Breed will be a part of Funky Junk this season. The Funky Junk community has a way of taking you in in all of your worth, and I am so excited that they are allowing me the space to share my unique style and concept. Although my pieces are not handmade, I intentionally choose each item I offer to align with the spirit of my customer and the aesthetic of my collection. You know when you buy a gift for a friend and like it so much that you consider keeping it 10x before wrapping it up? That's how I like to feel about The Vanishing Breed's pieces. They're hard to let go of but so so lovely to watch come to life on the right person."
What can we look forward to seeing from you at Funky Junk this fall?
"Fall dresses, graphic t's, jeans, palazzo pants, hats and more. If you love a mix of Boho and classic, there's a good chance we may just be the perfect fit for one another. See you all there - can't wait to meet you!"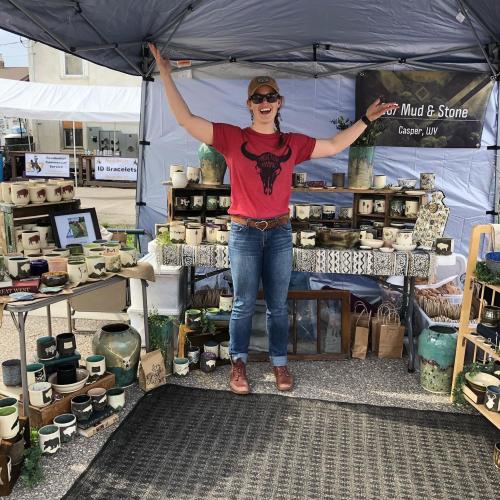 Jessica Snell | 307 Mud & Stone
Name a sweeter local potter in Wyoming than Jessica... we'll wait. Jessica of 307 Mud & Stone is a teacher by day and a creative, small business owner at night (or all summer long). After taking a pottery class in college, she not only fell in love with the art form, but felt called to take to the kiln. Fast forward to now and her hard work and magnetic personality has quickly turned her into one of Casper's most sought after artist. From mugs and bowls to fun kitchenware and more, if you haven't dressed up your space with one of her pieces than what are you waiting for? It's like a right of passage here in the 5150'!
What inspired you to start your business?
"At the time I started 307 Mud & Stone, I had been taking ceramics as a night class at the college just for fun. I started selling some of my pieces to help pay for the tuition for the class, and there seemed to be a lot of interest. At the same time, I was also getting my Masters in Education and had just quit my day job in the hopes of switching career paths. I didn't want to spend the money on setting up a home studio and beginning production because I was afraid I wouldn't be able to get a teaching job to support myself, and also what if no one liked my work! My parents sat down with me one evening and said that they believed in me and wanted to loan me the money to get started. Just knowing that they believed in me enough to front the purchase of a kiln, a wheel, and supplies got me started on an incredible journey. I knew I wanted to jump all in and did a pre-sale of ~200 mugs with the promise of a future mug once I got set up. Within 6 months, I'd pre-sold enough mugs to pay back my parents, buy more supplies, and fill all of the orders from people who trusted and believed in my dream. I will never forget the trust and support from family, friends, and strangers those first six months. Almost all of that came from the Casper community or people connected to it."
What has been the most rewarding aspect of creating and sharing your work in Casper?
"Part of what I love most about making and sharing pottery locally is that when someone comes to me looking for a piece, they're usually pretty excited about their purchase. They might be splurging on themselves, or getting a special gift for a friend, or a present for a celebration. I get to be part of that magic in bringing smiles to others' faces, and I love that part!"
What does it mean to you to be a local vendor at Funky Junk?
"Funky Junk has been a huge event for me. I've been quite a few times, and it's now a staple on my calendar. By far, it's my most successful event of the year, and not just in profit. To start, Whitney is one of those dreamers that had a vision and insisted it became a reality in the most gracious way. She never fails to reach out to me and make sure I'm a part of what she's doing, that I have what I need, and that my ideas are being shared. I also get to see the most people at her event! The foot traffic has had a huge impact on my exposure in Casper, and every year I have people come that say they've seen my work online and were just waiting for Funky Junk to come and make that special purchase. That doesn't happen anywhere else for me."
What can we look forward to seeing from you at Funky Junk this fall?
"Unfortunately, I may not be there this fall. Because I like to be involved in a lot of different activities, I will be out of town coaching that weekend. However, I will definitely be back in the spring! And with spring will come new designs, new colors, and hopefully new items as I've been branching out from my mug focus."
There you have it - the faces and hearts of Funky Junk. Save the date, write out your shopping lists and meet us at 6th and Durbin Saturday, September 18th from 10:00am - 5:00pm. In the meantime, follow along with each creative on social media and don't forget to stay close with us over @5150local too. We will be counting down to Funky Junk and sharing behind the scenes from the festival day-of!