When a mid-season snowfall gently covers the town and a new year settles in to stay, we as locals are brought back to what has always made up the matter of the 5150' - LOVE. Messy yet unconditional, if you jump I'll jump, L O V E love. And you know what that means, locals!? Valentine's Day is back in Wyoming! 
Valentine's Day is traditionally recognized for endless heart-shaped chocolates, the color pink and cheesy, commercialized romance that never seems to quite walk hand-in-hand with our reality. But we're here to change that. To celebrate we wanted to forgo the gush and put you onto crushworthy Valentine's Day date ideas in Casper, Wyoming for not only lovers, but families and singles too. That way you can fill this season of love with moments that feel true to you, no matter what you're closing your eyes to in 2023.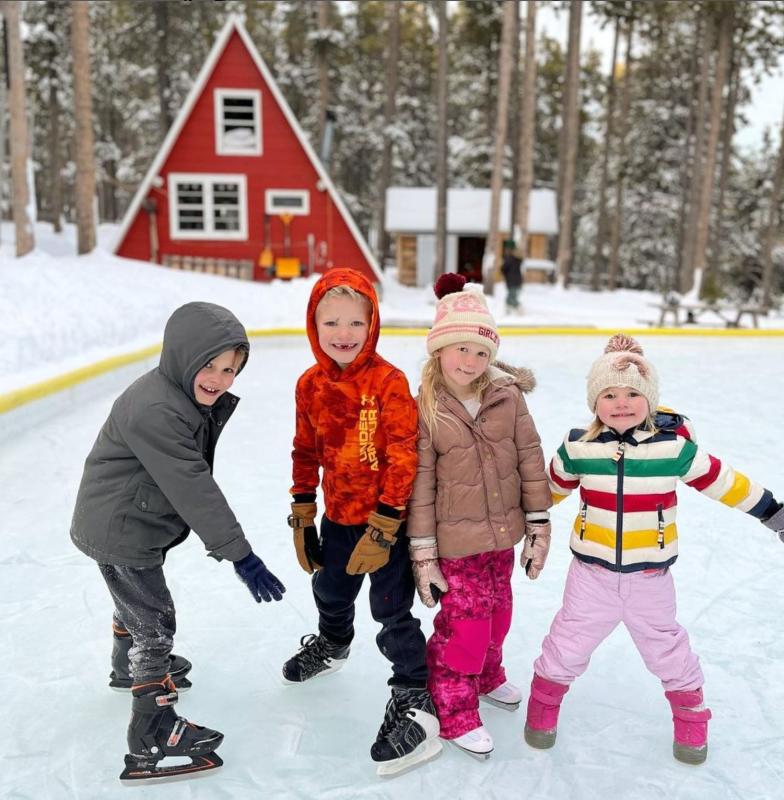 Go Wild Together
Call us biased, but here in Central Wyoming we believe that there is no better way to rally around the season of love than to get outside and go a little wild together. As locals we know that there is something so magical about surrendering to the call of the wild and spending uninterrupted time together in nature. Our backyard always has a way of sparking beauty within even our most mundane moments and bringing us back to what matters most - each other. 
We encourage you to get lost in the great wide-open spaces and possibilities of Casper this Valentine's Day. Forgo your chores and errands and opt for an adventure worth slowing down for. Hit a new backroad, take the family our for a day of ice fishing or snag lift tickets to night ski Hogadon Basin Ski Area (the sunset is sure to set the stage for a little romance). 
Craft Your Heart Out
What is it about the holiday of hearts that brings out the inner crafter in us? Blame it on years of homemade Valentine's Day boxes in grade school (or the DIY gifts to past lovers that went horribly wrong), but when February hits we're ready to embrace our inner maker. 
This year for Valentine's Day we are crazy about the idea of pouring a little love back into our artsy, winter afternoons. If you're feeling the urge to create try: handmaking your own Valentine's Day cards, designing your own polaroid photo booth, writing a custom poem for your other half or taking on that family cupcake recipe that's been keeping you up at night. 
If you're looking for a little hand holding in the crafting department (or just want to keep your kitchen clean - we get it!), check out Pottery By You, Artisan Alley or a take along craft from the Natrona County Public Library. No matter your muse, let the 5150' uncover your creative side this holiday. 

Cozy Up at Home, Valentine
This one's for all those homebodies. Name a more cozy and comfortable than a night in with the ones you love...we'll wait! But truly, there is something so lovely about forgetting the world and hiding away in your own space with your Valentines for the weekend. Pour up your favorite signature cocktail, cuddle up with the dogs and kiddos on the couch and binge that new season on your list. Local takeout and chocolates highly encouraged! 
Try Something New
What is it about trying something new that brings us home to ourselves again? If you've always felt a little well, BLAH about Valentine's Day (or this season looks different for you), be bold and sign yourself up for something you've never ever done before. Whether you're a couple looking to tap into new chemistry or you're single looking to revel in all the self-love this year, getting out of your comfort zone and challenging yourself can often times be the remedy. 
Take the beer and yoga class at Black Tooth Brewery on Saturday morning, volunteer for an organization that makes your heart flutter, throw an axe with Oil City Axe Co., take a winter snowshoe walk on Eadsville Trail on Casper Mountain, test your singing voice at The Office Bar & Grill's karaoke night or ask a new friend (or a hot date...we mean in the name of love!) out for a coffee. 
No matter your weekend itinerary, remember that this is your holiday and you are free to enjoy it how you please. You don't have to get caught up in the tradition of love unless it feels right. However, we do hope you take the time to do something that makes you feel alive in the 5150' - partner or no partner! You deserve it, locals!
 
Dress Up, Share Plates & Clink Glasses
Alexa play "Here for the Party" by Gretchen Wilson. 
Look, locals, let's spit the facts here...if there is one thing we're known for in this town, it's going out, kicking up our boots and celebrating in style. And Valentine's Day should be no exception. 
Consider this your sign to dress up, hit the town and splurge on good food (and a little bubbly, of course!). Whether you and your partner want to lock eyes across a table for two or a good ol' fashioned Galentine's Day get up is awaiting, we fully support leaning in and celebrating BIG. 
We recommend starting off with a glass of champagne or a mocktail at The Drinkery, making a reservation at FireRock or Silver Fox Steakhouse and night capping at Gaslight Social (or the beloved Backwards Distilling Company for something more intimate). 
Fall in Love With Live Music
Let's set the mood, shall we? If you're dreaming up the perfect night out for Valentine's Day, consider chasing down the 5150's live music scene with your V-day crew. From acoustic guitarists in cozy bars and Casper's micro-breweries, there's lots to do in and around Casper during the month of love. For something new, hit up Jazz Night at Backwards Distilling Company on  February 15. Check out more holiday happenings on our events calendar. 
Relax. Rejuvenate. Romance. Repeat. 
You know what's really crushworthy? Treating your valentine to a little R&R, 5150' style! Forgo the fuss and fixin' and rejuvenate this year. From spas and salons to all the local primping and prepping in-between, Casper has just the thing to make you feel new this Valentine's Day. Surprise your better half with a massage or facial at Spruce2 Beauty Bar, treat yourself to a luxurious manicure with Polished by Toni or curate a beauty box at SHE. 
If you're looking for that must-experience thing to do in town this season (sure to steal kisses through the remainder of 2022. Score!), check out the Valentine's Event at Balance Healing Salt + Sauna. Designed for both individuals and couples, it's a sweet way to show your love. 
There you have it locals. May this inspire your Valentine's Day in a whole new way this season. Don't forget to tag us in your Valentine's Day pictures and posts @5150local on Facebook and Instagram.