When winter arrives in Casper and Natrona County, it can bring a slew of mixed emotions as this season tends to get a firm hold on our wild and wonderful Wyoming. And while some folks may pack up and head south for the winter, others stay to play and enjoy everything this season has to offer. And while temperatures drop and snow blankets our landscapes, don't let that stop you from remembering – and participating in – all the fun things there are to do around Casper during this time of year.
If you're an outdoor lover, there is no doubt you will find adventures around every bend and if you prefer the indoors, well…we're here for you too!
Read on to learn the eight best ways to enjoy winter in Casper.
1. Snowshoeing 
When the snow starts piling up on Casper Mountain, it's time to break out the winter gear and hit the trails. There are several outdoor activities to enjoy on the mountain, including snowshoeing, which is accessible to people of all abilities. As the saying goes – if you can walk, you can snowshoe! If you don't have the gear, rentals are also available throughout town.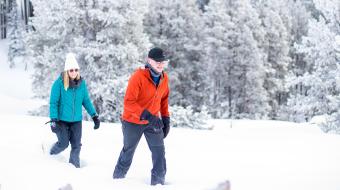 2. Skiing + Snowboarding
For more high-paced outdoor activities, head to Hogadon Basin Ski Area to ski or snowboard. With the ski hill being so close to Casper, this is a much-loved winter activity. Plus, with 27 trails that offer a variety of different skill levels and affordable lift tickets cost, skiing or snowboarding here is easy. If you have a family that loves to ski, the best way to make the most of your season is to purchase a family season pass.
3. Fat Biking
You may think riding bikes is only for the summer months, but we're here to assure you, winter biking is a blast. With fat bikes, you can pedal through snowy trails with no problem. In case you didn't know, Casper is one of the region's top biking destinations, so get yourself set up with new tires and hit the trails to experience Casper Mountain in all its winter glory.
4. Winter Fishing: Fly + Ice  
Did you know that some of the largest fish in the area are caught in the winter months? For some anglers, there's no better time to fly fish than in the winter. The river is less trafficked, the weeds are nearly non-existent and the waters are clearer. If you'd rather fish on ice, head over to Pathfinder and ice fish for walleye and trout. P.S.: don't forget to sign up for Pathfinder's annual HAWG ice fishing derby held February 4 – 5, 2023!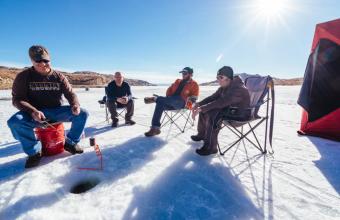 5. Beer + Yoga
If you LOVE beer and yoga, make it a Saturday tradition by heading over to Black Tooth Brewing each Saturday at 10:45 a.m. Here you'll be able to stretch it out with yoga, helping relax your nerves from the week and cool down with a locally brewed beer. If this doesn't help the winter months go by faster, we don't know what will.
6. Catch Live Music + Events
Throughout Casper, there's weekly live music you can enjoy at various bars and restaurants. Some upcoming winter places to check out include Fuzzy's Taco Shop for live music each Wednesday, Jam Night Thursdays at the Beacon Club, Zack Scott at Frontier Brewing Company on November 19, and Beats and Treats at Bourgeois Pig Sundays from 8 a.m. – 3 p.m.
7. Backstage Distillery Tour at Backwards Distilling Company             
Have you ever wondered how Backwards Distilling Company makes its drinks? If so, they do backstage tours of the process of making their award-winning, grain-to-bottle spirits. Catch them every Friday and Saturday from 2 p.m. – 3 p.m. for only $10 a person.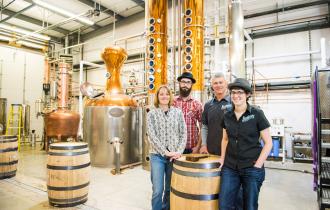 8. Art
Casper is filled with art displayed in museums, coffee shops and through murals around downtown. If you're an art lover or want to learn more, there are several places to start your winter art search including ART 321, Scarlow's Art and Coffee and the Nicolaysen Art Museum. If you'd like to try your hand at becoming artsy, check out Pottery by You, Artisan Alley and DIY Arts.
Find more winter activities and events on our website.